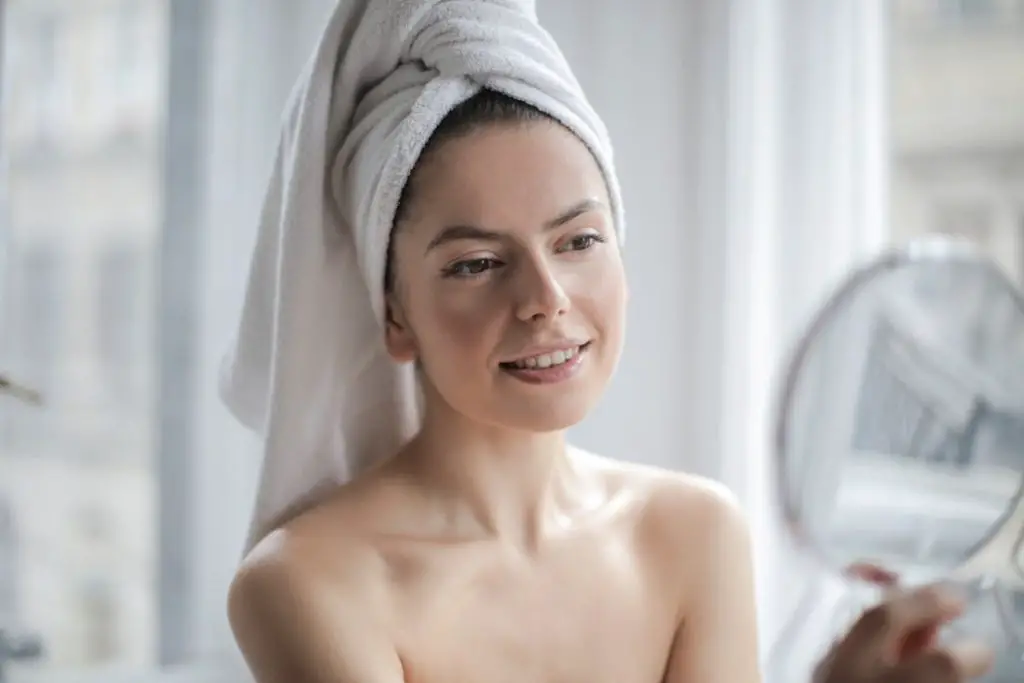 Hair towels are almost must-have and virtually everyone uses them these days because of the many benefits that they offer to our hair but while there are so many hair towel brands and products to choose from offering different features, to really give your hair the kind of pampering it deserves after taking them wet, you would have to invest in the right kind of towels that won't cause damages to your precious hair.
Now, you're probably are wondering about a few things like the prices, and which towel is the best for your hair? Because we understand that the type of towel you use can make a huge difference in drying your hair, we will be recommending and reviewing some fabulous hair towels that you could shop for online, that offer comfort, better absorbance, super hair-friendly, and are very much affordable.
1. M-bestl Microfiber Hair Towel
Best For Thick Frizzy Hair
Very often a lot of people wished they had a hair towel that will just stay in place while they are taking a bath or give them the freedom to go about their business while their hair dries. If you are one of these people, well, we have a great towel suggestion for you. The M-bestl Hair Towel has a special button design and is not elastic, which means you can wrap it around your hair more easily or even make adjustments when needed. It is also made from high-quality material that feels extremely soft on the hairs and will get your hair completely dry without having to risk damages from blow-drying.
The product package includes a 2-pack microfiber towel that comes in 2 exciting colors: pink and beige. It has over 773 ratings on Amazon with an average rating of 4.5 out of 5 and it is machine washable!
Also, because it is made from high-quality microfiber fabric which absorbs moisture better and faster, using this hair towel significantly cuts down hair drying time for up to half the time without too much fuss. You can check it out here.
2. YoulerTex Microfiber Hair Towel
Best For Long Thick Hair
If you are looking for an easy-to-use hair towel wrap that absorbs super quickly, this is probably the best for you because it's high quality and very inexpensive. The microfiber hair towel is made from an extremely soft material that will give a soft touch and take great care of your hair with minimal friction.
The ultra-lightweight of this product makes it even easier to use although it could also dry very thick hair easily. It is made from a long-lasting material that is very durable and will show little sign of wear even after multiple uses throughout the years. The towel is also perfect for virtually all hair types and it's better than blow-drying your hair on high heat.
The YourlerTex hair towel can be used daily and also helps cuts down your utility bill cost so it is definitely a better option than blow-drying. Fall asleep while drying your hair sometimes? No problem because you don't have to worry about damages that the towel could cause even though we don't recommend that you or anyone sleep with wet hair.
This product has over 2,000 ratings on Amazon with an average rating of 4.3 out of 5. You can check it out here.
3. DuraComfort Essentials Super Absorbent Anti-Frizz Microfiber Hair Towel
Best For Frizzy, Medium To Long Hair
The DuraComfort hair towel is mostly used by and is ideal for people with frizzy hair but it could be used to dry other hair types as well. It will cut your blow-drying time in half and your hair won't get damaged by using this. This great microfiber towel is made from lisse crepe microfiber fabric which is very absorbent and features a convenient design that is easy to tie into a turban with minimal fuss.
What's more? Because of its design, you do not have to worry about it falling apart while your hair is wrapped in it and drying and it is also very light-weight which makes for a more convenient hair drying experience.
You can use this hair towel everywhere and it's easy to travel with as it features an easy to pack design and convenient packaging. It is advised to leave the towel on your head for around 10 to 20 minutes for the best results. It has over 600 reviews on Amazon with an average rating of 4.5 stars out of 5.
Also, because having a full and dense hair is never a bad thing, you don't have to worry about shopping for the right towel that could accommodate your hair; the towel come in 2 different sizes but to make sure everyone can use it we recommend the 41 x 24-inch hair towel. This is to make sure you won't have to send it back in case it doesn't fit your head. You can check it out here.
4. Organic Bamboo Hair Towel
Best For Long and Frizzy Hair
Quite honestly, organic is always the better option. The organic bamboo hair towel from Laluztop is made of 80% premium fiber and 20% polyester. The hair towel is a safe, natural and very healthy choice for thin soft hair. Another amazing feature of this product that we love is that it dries hair really fast thanks to the awesome absorbent capability of bamboo and is very easy to wrap the hair with.
The towel is very fluffy and soft to feel and is good for use even on sensitive skin types because it is hypoallergenic. It is also very durable and will last for a very long time.
This is a one-size-fits-all-hair size towel which means everyone can use it including men with longer hair. It offers great versatility as you can use this towel everywhere from the beach to the swimming pool and even after a nice bath.
The bamboo towel will absorb your moisture from your hair in no time and you will be good to go after using it. It has over 200 reviews on Amazon with an average rating of 4.5 out of 5. You can check it out here.
5. Aquis – Original Hair Towel
Best For Color Dyed & Frizzy Hair
The Aquis original hair towel is perfect for after a nice hot shower. This special hair towel is available in 6 different colors which makes it a very fashion-forward option and it's ideal for coarse, delicate, thin, thick, and all other hair types. The supple microfibers are really gentle on your hair and do not damage vulnerable wet hair or cause frizz or split ends after drying.
Some of the benefits of using this hair towel are minimizing damage caused by water, blow dryers and cotton towels. Your hair will look way shinier and bouncier after using this towel.
 If you have dyed your hair or are planning to do this, this hair towel is perfect for you because by using this towel the hair cuticles lay flat, locking in hair color which results in a longer-lasting color which will also assist you to save money on regular redo'.
The Aquis hair towel has over 1,600 reviews on Amazon with an average rating of 4.5 out of 5 and you can check it out here!
6. Microfiber Hair Towel – For Fast, Frizz-free Drying
Best For Long Thick & Curly Hair
This microfiber hair towel is fast for hair drying without doing too much work and having to wait for long periods. It is gentler and more hair-friendly compared to blow-dryers and is a one size fits all hair towel. The hair towel is extremely soft and machine-washable.
It features a unique turban design that guarantees that you do not have to struggle with keeping your hair wrapped and in place while it dries.
Made with fine waffle weave microfiber and a smooth border, this is one of the hair towels that we really love and recommend. It has over 970 reviews on Amazon with an average rating of 4.5 out of 5. People love this hair towel because it absorbs the hair really well and you can even use it throughout the winter months when it's very cold outside.
You can buy this hair towel in 3 different colors and it has a really premium feel to it. It's a great hair towel for people that really don't like blow-drying. You can check it out here.
7. Evolatree Microfiber Hair Towel Wrap
Best For Curly Normal Hair
Because of the damaging effect on hair caused by regular hair towels, a lot of people result in blow-drying their hairs which is obviously not an ideal option. The Evolatree microfiber hair towel is great because you will stop wasting those hours blow-drying your hair using too much heat from a hairdryer and eventually even risk damaging it. This towel will dry your hair faster than most other towels available out there, it is very plush, and is very easy to use.
This product also offers more durability, versatility, and compactness than most other alternatives out there as it can be easily carried around to the gym or the saloon or even the beach.
The hair towel is super-absorbent and perfect for wrapping up wet and dry hair after showering. Your daily morning routine will for sure change by using this hair towel every day! It has over 1,100 reviews on Amazon with an average rating of 4.5 out of 5.
You can buy this towel in 2 different colors and is "Amazon's Choice" so you know it will be good. They even offer a money-back guarantee, knowing there is no risk when you order it. You can check it out here.
8. HOPESHINE Microfiber Hair Drying Towel
Best For Short, Medium and Long Thick Hair
The HOPESHINE microfiber hair towel is lightweight, super soft and more absorbent thanks to the microfiber technology used to manufacture this product. It feels gentle on hair and skin. Just wrap it around your head after a shower or bath and you can go about completing other tasks; it is ideal for everyday use.
This hair towel makes sure that it will not be slipping off while or dripping water while your hair is still drying like other regular cotton bath towels that don't stay securely on and aren't very absorbent. It has a high-grade durable quality and is compact for traveling. It's made in Ireland and does not shrink after washing.
The towel also features an ultra-lightweight you might forget it is on your head. It has over 890 reviews on Amazon with an average rating of 4.5 out of 5. It is a 3 pack which comes in 3 different colors you can choose from. You can check it out here.
9. Orthland Microfiber Hair Towel Wraps
Best For Long Thick & Curly Hair
Would you prefer a super affordable hair towel that is soft and gentle on the hair? The Orthland hair towel is a great hair drying towel that comes in a 2 pack with different colors. It's made from superfine microfiber fabric engineered to deliver better moisture absorbance and is long-lasting.
It's a great hoodie towel that's comfortable, very absorbent and easy to use; it will dry up your hair in less time. The texture of these towels is very different from other brands. Just wrap it around your head and let it sit for around 15 – 20 minutes for the best results.
You can use it every day and reduces frizziness and breakage caused by friction which you might experience using regular bath towels. It has over 1,500 reviews on Amazon with an average rating of 4 out of 5 stars. You check it out here.
Frequently Asked Questions
Are Microfiber Towels Good for Your Hair?
Yes, for some people microfiber towels are the best option because blow-drying your hair rather than towel dry it, can cause serious damages to the hair that might take time and a considerable amount of money to fix. One of the benefits of it is that it won't cause breakage and it reduces frizzy hair.
Using a microfiber towel can take longer than blow-drying but if you compare the pros and the cons, we think it's better to opt for the towel option.
Pro's
Moisturizes
It's faster than using a cotton towel
Less friction and breakage
It Reduces frizziness
They are affordable and cost-effective compared to blow-drying
Cons
Takes longer than blow-drying
Avoid bad fabric that may damage your hair
Related Article:
Towel Dry or Blow Dry Hair?
Should You Wrap Your Hair In A Towel?
Wrapping a towel around your head is way better for you than rubbing your vulnerable wet hair with a towel.
By wrapping your hair in a towel, your hair will be more moisturized and the towel will absorb more moisture. So, yes you can wrap your hair in a towel but what it really comes down to is the individual's personal preference.
Some people like to air dry, blow-dry or towel dry. If you are going to wrap your hair in a microfiber towel try to wash or change the towel after every use for the best results.
Can You Sleep With A Microfiber Towel On?
Yes, you can sleep with a microfiber towel on, but to get the best results, we advise you to not do it. While sleeping you move a lot which could possibly cause the hair to cling and that's not always good.
Does Microfiber Make Hair Frizzy?
No, there are lots of anti-frizz hair towels like we've mentioned before. There are different materials that towels could be made from but the best that we've used so far are the microfiber ones.
Remember to not rub your hair with the towel after a shower because by rubbing it your hair could possibly be damaged from it. So, wrap it around and let it dry for around 15 to 20 minutes.
How Fast Do Microfiber Towels Dry?
It all depends on your hair type but generally speaking it's around 15 to 20 minutes. Some take longer and some more absorbent towels may take less time to dry hair.
Are There Environmentally Friendly Microfiber Towels?
Absolutely! Some brands make their microfiber towels using organic and eco-friendly towels that are even more absorbent and even softer
Are Microfiber Towels Worth It?
For us, Yes, it's definitely worth it. The benefits you get out of it are significantly higher than using a normal towel. The microfiber towels aren't that expensive and are really durable. You could even use 1 towel every day for 1 year and it will still give really good results.
However, we do recommend you to buy 4 or 5 microfiber towels at once to keep switching. By switching the towels your hair will get the best benefits from it.
Conclusion
So, we have come to the end of the review and we hope that you will find our recommendations very helpful while you shop for the best microfiber towels for drying your hair. Follow the links to check out the products and see which is best for you.