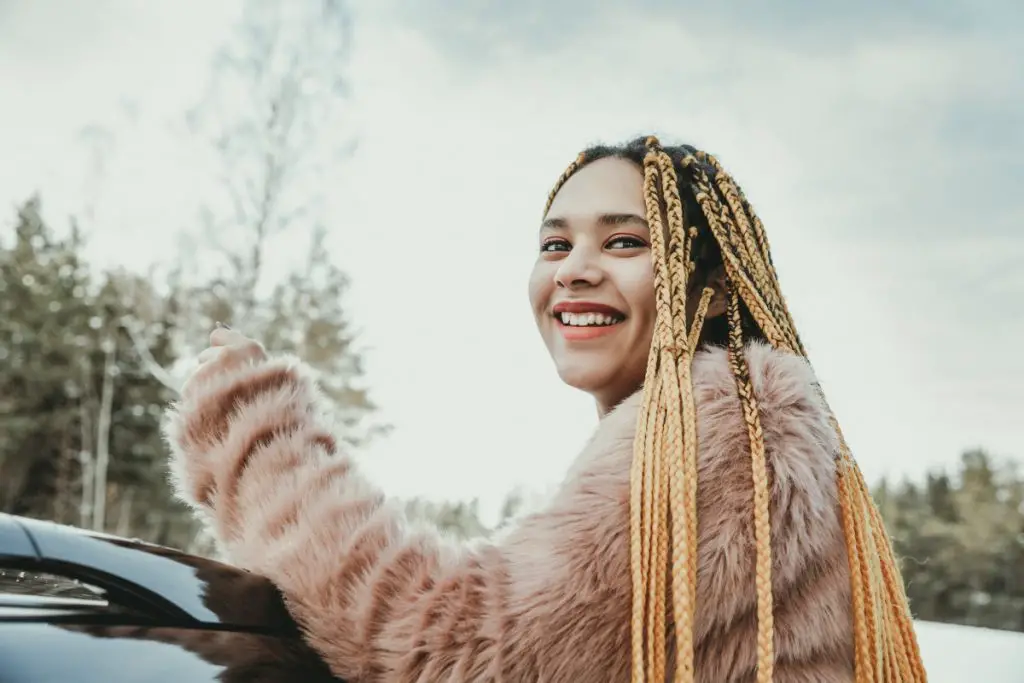 Generally speaking, box braids should be washed every 2 to 3 weeks. Ideally once a week but washing once every 3 weeks is the longest you should go without. Washing box braids is important to keep them moisturized and healthy.
A good hairstyle can enhance your appearance and make you look professional. But it's not only about the way you have your hair cut and styled at the salon. You need to know how to take care of it. With a good dose of TLC, you'll notice the difference.
Box braids are great low-maintenance hairdos, especially if you have textured hair. However, this does not mean you skip on the shampoo.
With that said, let's dig deeper into having box braids.
How Long Should You Wait to Wash Box Braids?
Ideally, you should wait for 2 to 4 weeks before washing the box braids for the first time.
Box braids are an ideal protective style. It'll tuck away your hair in braids for the next couple of months. But before you make a braid, shampoo, and deep condition it the day before. This ensures it's clean and nourished before styling.
Once the hairdresser installs the box braids, you won't need to clean them right away. However, you do need to ensure it's always moisturized and lubricated. 
That's because synthetic hair often dehydrates natural hair. A light leave-in conditioner or oil can do wonders, helping to restore your hair's moisture and make you look your best.
Keep in mind that you should wash the box braids carefully, don't do it too harshly since it could damage the hair really badly.
Can You Wash Box Braids Every Day?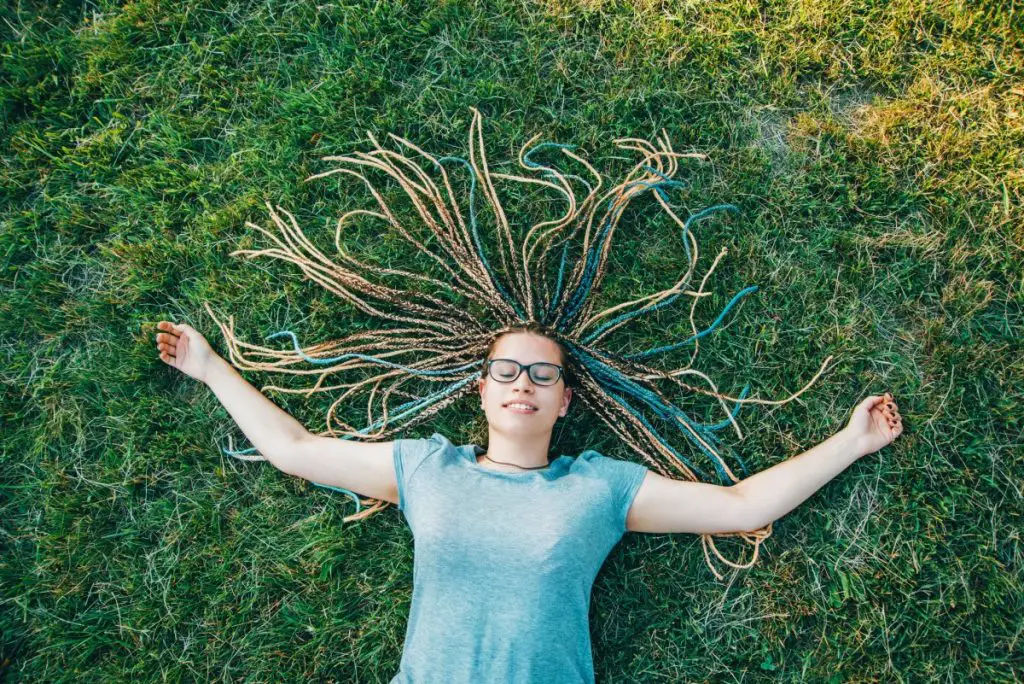 Yes, box braids can be washed every day. However, it's not recommended since this can stress the hair. When hair follicles become overstressed, you'll see dryness and maybe even hair thinning.
One of the benefits of getting box braids is that it's a hairstyle that doesn't require much daily maintenance. So you really do not need to wash them every day. 
Washing helps remove the day-to-day itchiness and relieves stress. But washing box braids properly and rinsing the shampoo out of your hair and scalp is a lengthy process. 
You may not have time to do this every day. Instead, consider using dry shampoo and a dry conditioner. 
Simply rub these products between your parts and along the base of the braids. This way, you can clean your hair without getting a single braid wet.
It's important to use a good conditioner after washing the box braids. It will give the hair an extra layer of protection. 
Most people that have box braids use conditioners quite regularly. It prevents the hair from drying out and keeps it moisturized.
Can You Wash My Braids Weekly?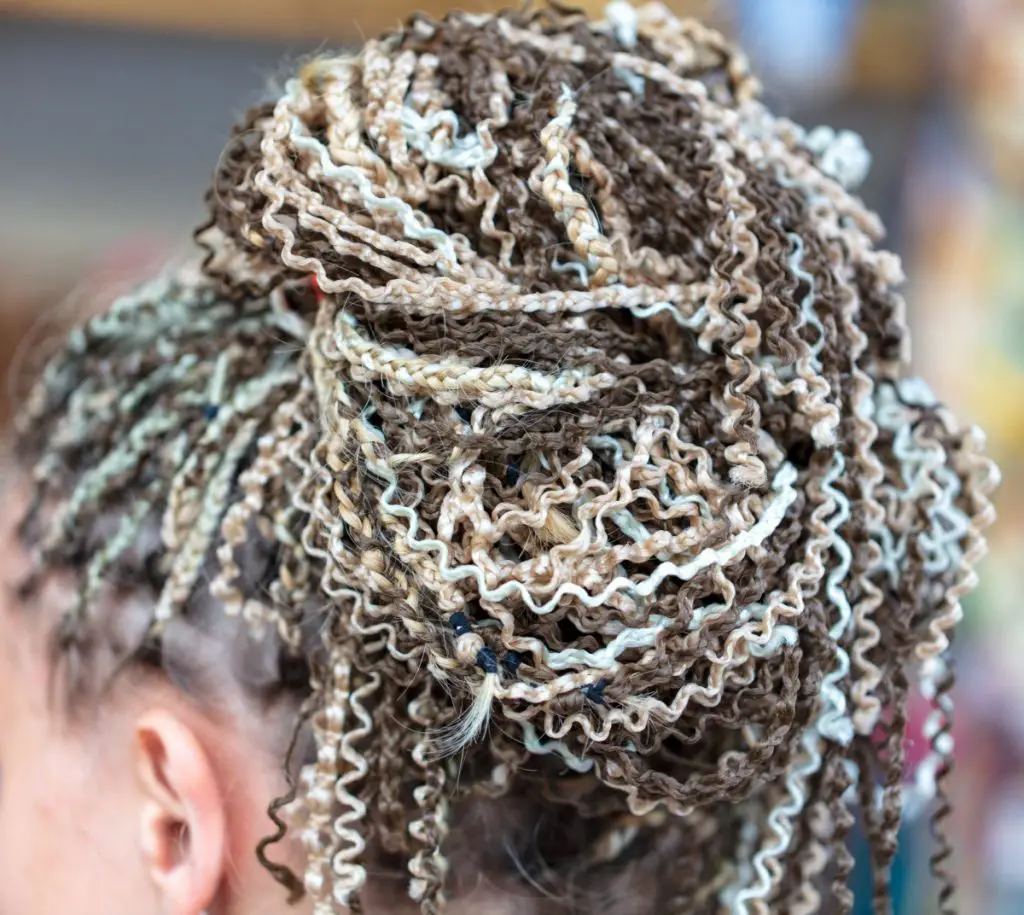 Yes, washing braids weekly is possible. However, keep in mind that most people wash them once every 2 weeks.
Washing a braid is essential as it keeps your hair and scalp healthy. It removes build-up, sweat, dirt, dandruff, dead skin cells, and bacteria, allowing your scalp to breathe.
If you have an oily scalp, consider washing your hair at least once a week. If your hair is dry, it's better to wait 2 or 3 weeks before washing it again.
It's not only about shampooing your braids. It's crucial to put back moisture into your hair. Therefore, use conditioner and oil to lock the moisture in. More importantly, keep your hair free from mildew by letting it air dry completely. 
There are many ways to improve your braids. One of them is to use a diffuser when blowdrying the hair. 
Also, use a heat protectant. This is a mistake I've seen with many people that had box braids. They didn't use heat protectants when blowdrying, and their scalp got extremely dry.
I've helped over 20+ people with box braids finding the right shampoo so, it should be enough to give some tips, especially for beginners. It might be helpful.
How To Sleep With Box Braids
To make your braids last, you need to protect them at night. Consider sleeping with a silk headscarf or bonnet. 
Using a satin pillowcase will do the job as well. The silk protects your hair from frizzing and dehydrating, helping to keep your style intact.
The easiest way to sleep with a box of braids is to use a bonnet, these are very cheap, and you can buy them in almost every beauty supply store.
Sleeping with box braids might feel very heavy on the hair. However, it's not as bad as you might think. The only problem could be the friction your hair keeps getting. That's why using a bonnet is the best way to prevent this.
If you have the budget, make sure to get a satin pillow. Most people that have box braids themselves, I highly recommend a satin pillow. This is better for the hair and won't stress out the hair follicles.
Conclusion
All hairstyles need regular maintenance. Your braided hair is no different. But some people avoid washing their box braids for fear of messing them up.
Even with proper care, most people tend to keep this style for about six to eight weeks. To look your best all the time and keep your scalp healthy, make sure to cleanse, care for, and dry your braids regularly.