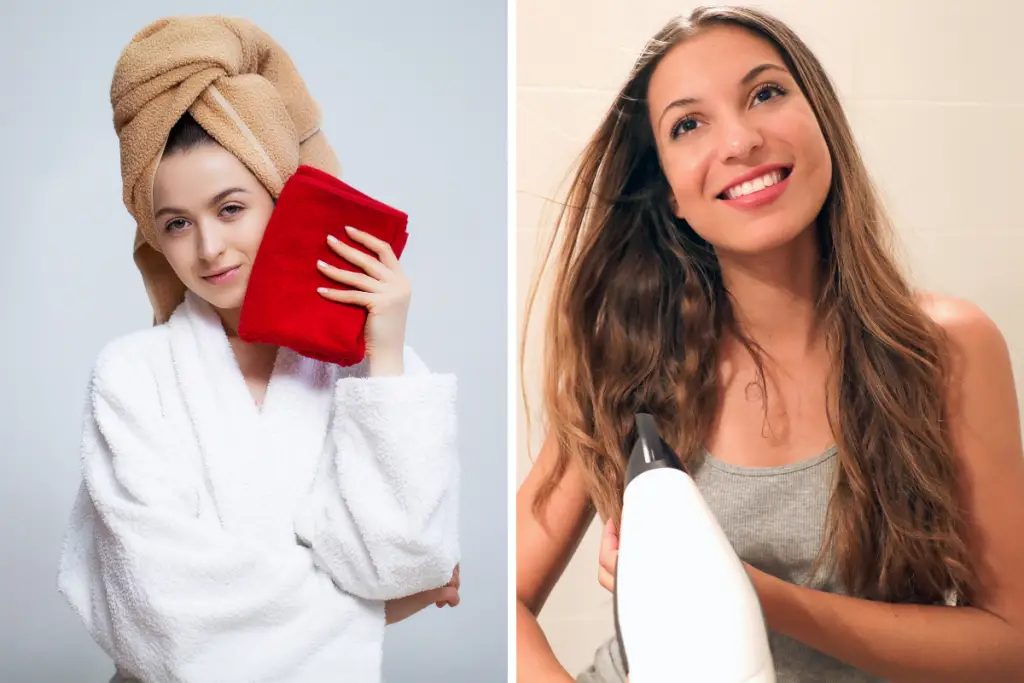 Maybe you are one of those people
who spends a lot of time taking care of your hair. You want your hair to be
full and lustrous, but no matter how much you care for your hair, you wind up
with split ends or worse.  Did you know
that some kinds of damage can be caused by the way you're drying your hair? Has
blow-drying got a bad rep for a reason, or should we add it back to our
routine?
Towel dry or blow-dry hair? The truth is that drying your hair should
consist of both the towel drying and
blow-drying. The trick is to make sure that both are done correctly to avoid potential damage.
It can be tricky to know the
right way to dry your hair, but it might be the most important piece of the
puzzle. Aside from shampooing and conditioning in the shower, drying your hair
is the first step after popping out of the tub. Your hair care routine needs to
start off strong to ensure the health and strength of your hair.
Towel Drying or Blow-Drying: Which is Better?
The truth is that both towel drying and blow-drying are
important in the drying technique of your mane. They both serve a very
specific purpose, which might be surprising to some people who have deemed blow
dryers to be hair destroyers.
The most important thing to remember
is that each technique- towel drying and
blow-drying- needs to be done correctly.
Otherwise, you're looking at hair that is dull, fizzy, and lifeless.  You could also be looking at potential damage,
including split ends, breakage, and loss of hair.
The Right Way to Dry Your Hair
Therefore, it's important to know
the best routine for hair drying that
involves both a towel and your trusty blow dryer. There is a lot more that goes
into it than you might think, so knowing the 'right' way will ensure that your
hair avoids problems and winds up looking lustrous, flowy, and full.
Let's go through the steps.
1. Start By Towel Drying Your Hair
If there is one thing we can say
with confidence, it's that you should
never try to blow-dry dripping wet locks. This is a recipe for disaster for
your hair. You should always begin by
towel drying your hair until the hair is over 50% dried.
So, for all the women out there
who roll their hair up in a towel for an hour (and trust me, I have done this
more times than I can count), it's time to stop. When hair is left to towel dry (or air dry), the cuticle swells and
ends up breaking. As you would assume, this means damaged locks and
unsightly split ends.
Another thing to be careful about
is how you are drying your mane. Never
use the towel to try and twist and wring the water out of your hair. Instead,
you should blot your hair gently and
give it a few squeezes to release the water. Make sure that everything
you're doing is treating your hair with gentleness and care to avoid potential
damage.
Finding a great towel that helps to absorb moisture quickly and easily is a great idea. We recommend using the Aquis – Original Long Hair Towel, Ultra Absorbent & Fast Drying Microfiber Towel. This top-notch towel is great for all hair types. It works 50% better than regular towels and guarantees that your hair will be healthier and stronger thanks to the fast-acting material.
2. Apply a Heat Protecting Product to Your Hair
One thing that should never be overlooked is the heat
protecting product for your hair. This could mean the difference between frying
your locks to get those dreamy, romantic Hollywood curls or stepping out
feeling Hollywood-glam with locks that rock.
We highly recommend the HSI PROFESSIONAL Argan Oil Heat Protector because it's less than $15 and is guaranteed to get the job done. With over 7,000 positive reviews and a 4.5-star rating on Amazon, you can feel confident in this heat resistant product. Protect your hair from all types of heat, blow dryer to flat iron to curler and more, and finish with weightless manes that are sultry and carefree.
3. Blow Dry Correctly
Once your hair has been blessed
with a heat resistant product and is over 50% dry (with about 65 to 70% dry
being ideal), you can start blow-drying
your hair. But remember that you
need to blow dry the correct way to avoid damage.
There is indeed some cause for
concern when it comes to blow-dryers, which is why they have gotten such a
negative reputation over the years. You see, blow dryers can easily burn the hair and create instant damage. That
is why it is so important to use your
blow-dryer on the lowest or medium setting, never the highest.
Aside from using lower heat, you
should make sure that you aren't
spending too much time in one spot of the hair. Keep the blow-dryer moving
around your mane consistently. Avoid spending too much time in one area, as
this will cause the heat to rise too high, which damages your hair.
Consider using the attachments to confine the heat to one
spot, too. You know those little attachments
and nozzles that came with your hairdryer? Their purpose is not to live
forgotten in some corner underneath your bathroom sink. The attachments can
work to ensure that heat is concentrated in a specific spot, instead of heat
reaching the rest of the mane while blow-drying.
We highly recommended you use an ionic hair-dryer when blow-drying as it's less damaging to the hair. JOHN Blast Turbo 6900 is a top pick because it works quickly, isn't too noisy, and dries hair quicker than other models on the market. You really can't go wrong with this do-it-all hairdryer.
Final Tip: Don't Wash and Dry as
Often
Perhaps the best thing to do to keep your hair healthy and strong is to stop
washing it and drying it as much. In fact, you are far better off waiting a
few days in-between washes. What this does is allows the natural oils of the
hair to remain in place, leaving you with a healthier mane overall.
Aside from natural oils remaining
present, especially in the scalp, taking a break in between washes will also
mean you're not putting as much unneeded water or heat on your locks. Remember-
excessive water damages hair as is a heating product like a blow-dryer. The less you have wet hair and use a
blow-dryer, the healthier your locks will be.
Don't worry, though- that doesn't
mean you have to skip your relaxing showers. Just try to avoid getting your hair wet when showing a few times a week. Some
people with low amounts of natural oils may be able to get by with going 4 to 5
days without a wash, while others might be topped out at 3. Either way, the
less strain you put on your locks, the happier they will be.
Conclusion
Towel drying and blow-drying your
mane are both important pieces of the hair-drying puzzle. However, you must
make sure that you're doing it correctly to save the health of your hair.
Remember to blot and squeeze with
a towel until hair is at least 50%
dried, then move on to a blow-dryer using the lowest or medium setting. Don't
forget to move the hair-dryer around the head regularly and always apply a heat
protector for the best results.