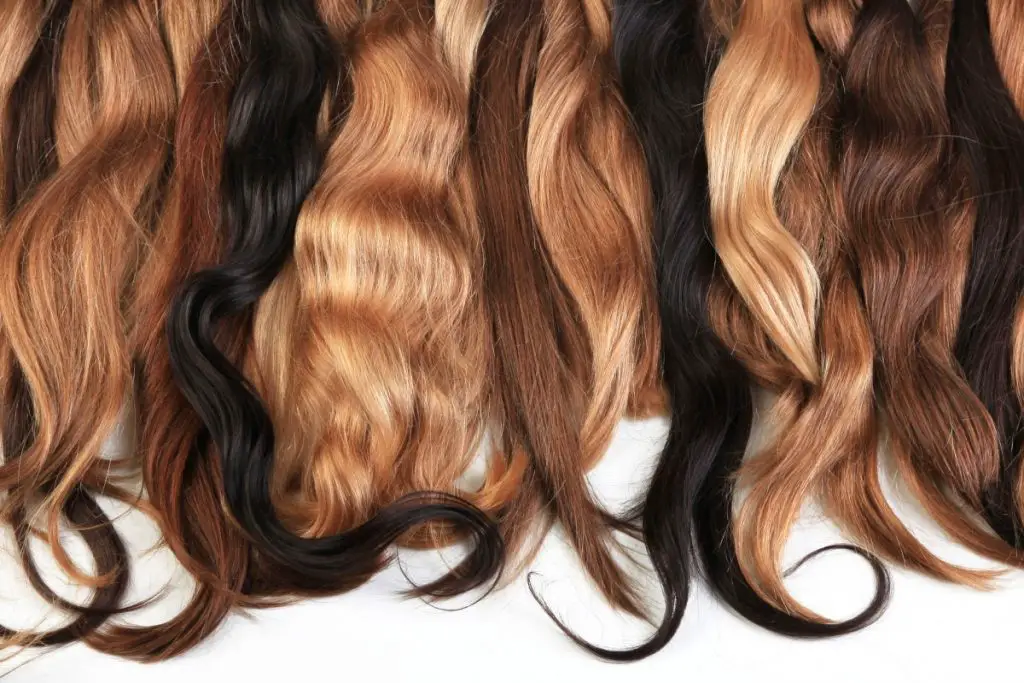 Hair extensions are not very popular in Korea but for people that struggle with different hair types and finding what looks the best on them. Using a Korean hair extensions is an excellent choice because you don't have to actually let your hair grow.
Another plus is that you can just wear them once and if you are bored with them. You could just switch to a different hair extension. In the Kpop industry, even guys wear hair extensions to make their hair look longer so it's completely normal. It's a great option for lots of people out there so here are the 7 best Korean hair extensions that have a great quality.
Here are The 7 Best Korean Hair Extensions
1. Pony Tail Extensions
The Ponytail hair extension is great for people that want an easy to wear extension. It gives great volume, and the length is available in 40, 50, and 60 cm. There are multiple colors where you can choose from, and it's extremely easy for beginners.
2. Fringe Extensions
The fringe extension is becoming more and more popular. It's a clip-on extension that gives a natural look and is very easy to use. If you use it properly, you can't tell the difference between a real one and the hair extension. It's a one size product, but you can choose lots of different hair colors.
3. Wavy Locks
The Wavy hair extensions are great if you really like wavy hair. The quality is amazing, and it doesn't feel heavy. Some of the other hair extensions feel heavy on the head, which feels really unpleasurable. You can buy the wavy extensions in multiple colors, and it's clip-on.
4. See Through Bangs
The see through bangs are very popular in Asia, and lots of people have bangs. It gives a very cute look, and it's a clip-on hair extension. This product is only available in one size, but you can choose different colors. They look amazing once you use them for yourself. I highly recommend this product if you like bangs.
5. Straight Color Extensions
These hair extensions are great if you are going to a party or festival. It's really popular since it's a notable hair extension. The reason why I have included this in the Best Korean hair extensions is that a lot of people really love this product. It looks very real and is easy to use for beginners.
6. Hair Extension Straight
If you are looking for normal hair extensions that look extremely real. These are the best ones for you. It's available in multiple colors and sizes. The quality is amazing, and it blends perfectly with almost every hair type. Make sure to look for the one that fits your hairstyle.
7. Wavy Hair Extension
These hair extensions are great for people that want wavy hair and some extra volume. It's a great product that feels very premium. For the price, you can't really go wrong since the quality is very good. If you are thinking about buying this, you definitely should go for it.
Related Articles:
The 4 Best Korean Hair Dryers
FAQ
How Long Do Korean Hair Extensions Last?
These extensions could last you for a very long time when used properly. I have used some of these hair extensions in the past and if you take good care of them. It could last you up to 12 months, which is extremely long.
For the price of these hair extensions, you can't go wrong. Almost all of these hair extensions are under $30, which is extremely cheap if you compare it to other brands. You could let a professional do it, but that also costs more money, and these Korean hair extensions are of good quality.
Will It Damage Your Hair?
No, hair extensions will not damage your hair. However, make sure that you apply them properly so it won't stress out your scalp too much. Generally speaking, you should keep your hair always healthy. No matter if you wear hair extensions or not.
What's important about wearing hair extensions is to switch them out or wash them. Do not sleep in your hair extensions because the friction could cause possible damage your hair. So always take them off before you go to bed.
The reason why you are wearing a hair extension is probably that you want longer hair, but don't the pain in the ass to take care of your real hair every day.
This is completely normal because I also used this in the past, but later, I just decided to grow my real hair. It feels more real to me, and I get a feeling of satisfaction. That's it is my own hair.
Which Hair Korean Extension Is The Best For You?
To start off, you should look at your hair color. Which hair extension fits your hair color the most. Secondly, look at the kind of extensions you want because not everyone can wear a ponytail. Well, you technically could, but some just don't like wearing it.
What's important about finding the best Korean hair extensions is that you really want to wear them. Don't buy them and let them sit in your room all day. You should actually wear them and make them look good on you.
Here are lots of different hair extensions out there. Still, the reason why Korean hair extensions are different is because of the feeling.
Most Asian's have different hair types; therefore, it also needs different hair extensions. So think good about the ones you want and if you can't decide, ask one of your friends or family to help you choose.
How Often Should You Wash Your Hair With Hair Extensions?
In short, you should wash them 1x a week. But it also depends on how often you wear it and what you are doing with it. People that go to the gym have to wash their hair extensions more often because of the sweat that comes off.
If you only wear your hair extensions once a week, there's no need to wash them every week, so you should look at how often you are going to wear them.
It's important to keep your hair extensions clean at all times, you don't want dirty hair extensions on your hair that will spread dirtiness to your scalp.
Conclusion
After all, it's up to you if you are buying hair extensions but for me personally. It's was a great choice back when I was really insecure about my real hair. It was always very dry, and it didn't grow as fast as I wanted it to.
If you are thinking about buying Korean hair extensions, you should just go for it since it's not that expensive, and you never really know how it looks until you try it.
What's important is that you really like how it looks on you and not the opinion of other people. You should ask your close friends and family for their opinion if you really want to know how it looks.
But from my experience, my friends didn't always like my hair extensions because they said it didn't fit me. From what I heard, later on, is that they really liked and it didn't dare to ask me where I bought them.