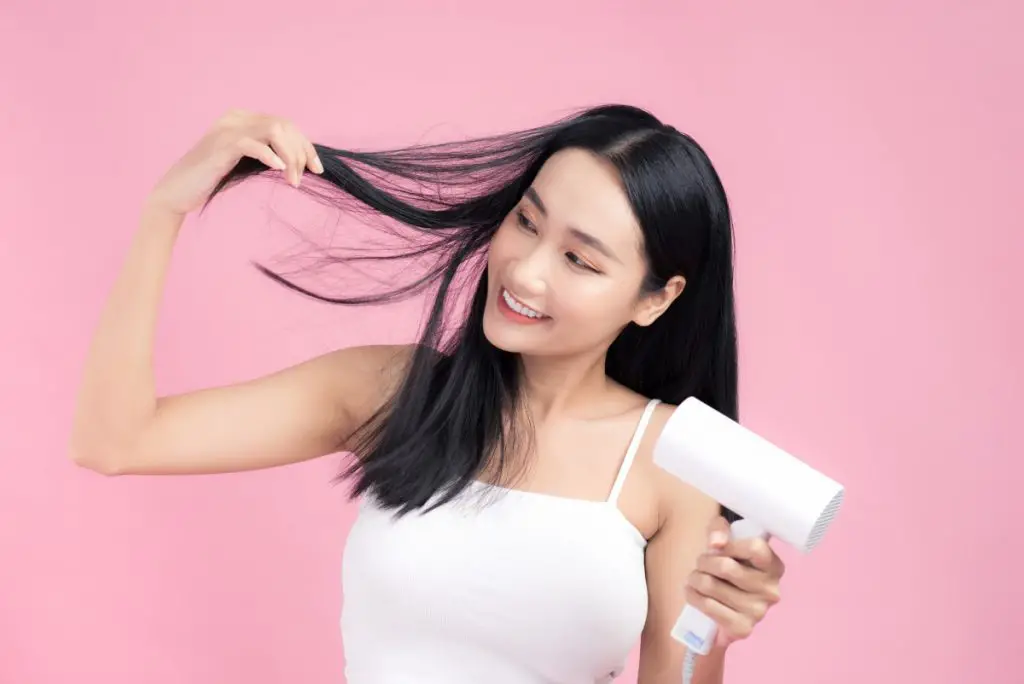 The hairdryer market has lots and lots of different hairdryers. The one that I like the most is from Korean brands. From my experience, Korean hairdryers give that soft and shiny look after using it. I have Asian hair, and that's probably why it works better for me.
In the past, I've used a lot of different hairdryers, but every time I just kept coming back to the Korean hairdryers. There weren't many hairdryers I could find, so it took some time before I found some good ones.
Here are the 4 best Korean hairdryers, to revive your hair and give it a shiny look!
Best Overall: ELRA STORY Titan U7 Hair Dryer
The Elra Story Titan U7 is a professional Korean hair dryer that is mused by a lot of hairdressers in Korea. It has a powerful U7 motor that decreases the dry time by a lot. While it also gives it a great shine and softness after.
This hair dryer has a different feel than the other ones on the market. You have to get used to it at first. It's way more powerful, and it's highly recommended amongst hairdressers. At first, I was a bit skeptical about an expensive hair dryer, but after using it for over a week. It's one of the best decisions I've made so far this year. The power you get from this hairdryer is really impressive.
I'm really glad I bought this hair because my hair dries out really fast and is very frizzy. This hair dryer doesn't dry out my hair, and the blowout is just perfect. The design is fantastic, and I really like the aesthetic point of view of this hairdryer.  If you are considering buying a Korean hairdryer, this is really worth it, and you should see it as an investment because hairdryers can go for at least a couple of years.
Speed Settings: 3
Colors: creamy white
Cold Button: yes
Watt: 2000
Best For Thick Hair: ELRA STORY Expert Hair Dryer
The Elra Story expert hairdryer is perfect for thicker hair. I noticed that this hair dryer is very fast and gentle. The design is really sleek, and that's what I really love about this hairdryer. If you compare this to different hair dryers in the market, it's really different.  
I personally think that Korean hairdryers work better for people with Asian hair and even normal types of hair. Also, there aren't many Korean hairdryers in the US, you can still buy them online. If you have thick hair, this hairdryer is perfect for you, it really gives your hair that smooth and silky feel after using this.
These hairdryers might be on the expensive side, but it's totally worth your money. These hairdryers will last really long, and the quality of this product is mindblowing. Another plus is that it's not overwhelming, the hairdryer isn't too harsh on your hair. That's really important because you don't want your hair to be damaged after using it. However, with this hairdryer, you could literally use it every day.
Speed Settings: 3
Colors: white
Cold Button: yes
Watt: 2000
Best Budget: Jinri 1875W Professional Salon Hair Dryer
The Jinri hairdryer is one of the Korean budget hairdryers out there. It has a long durable AC motor that releases ionic drying. It's really good for thick hair, and it isn't that expensive. What I really like about this hairdryer is that it is really lightweight and easy to hold.
Another plus is that it has multiple heat settings with a removable air filter. It works effortlessly and is great as a starter. The hairdryer is really compact and easy to travel with. You could put this in a small backpack if you needed to.
The hairdryer works for all hair types and is on the less expensive side. The power is good enough, and I highly recommend this Korean hairdryer if you are on a budget. If you are thinking about buying a hairdryer within a decent budget. This is the perfect hairdryer for you; it works flawlessly and gives a shine.
One of my friends uses this hairdryer, and she recommended me this hairdryer. I bought it and really liked it but if you have a bigger budget. I advise you to buy the Elra Story one because in my opinion that one is better.
Speed Settings: 2
Colors: black/pink
Cold Button: yes
Watt: 1875
Best For Damaged to Normal Hair: ELRA STORY Titan U5 Hair Dryer
The Elra Story Titan U5 works perfectly for normal to dry hair. If you are that person that doesn't need the best Korean hairdryer. This is an excellent choice, it works really well, and it also has lots of power. This is like the hairdryer in between the budget and the best overall one.
It gives great results and isn't that expensive, comparing it to the best overall one. Like all of the Elra Story hairdryers, this one also has an extremely premium feel, and the quality is really good. It's very beginner-friendly and won't damage the hair as much.
From my experience, I've used a lot of other hairdryers from different brands. Most of them damaged my hair because of the heat or time it took to blowdry. However, with this one, it didn't the temperature was perfect. The hairdryer feels really good in the hand and is one of the better ones out there. I recommend this hairdryer if you are looking for a really good hairdryer that has a reasonable price.
Speed Settings: 3
Colors: black
Cold Button: yes
Watt: 1700
Related Articles:
The 8 Best Korean Hair Extensions
Korean Hair Care Set
Are Korean Hairdryers Worth it?
Using a Korean hairdryer could be really lifechanging if you have Asian hair. Even some of my friends that have different hair types really liked using my Korean hairdryer. It might be expensive at first, but you should really see it as an investment that could last you for 10 years. They're certainly not for everyone out there, but if you are considering buying one.
I'd highly recommend trying it at least once because you never know until you are going to try it. It could change a lot to your hair, and that's what it did for me.
Overall, I think that it's one of the best hairdryers that I've used to this day. It has a unique feel, and the quality is different from the normal brands out there. A normal hairdryer only lasted me for about 1 year before it getting cracks everywhere. It stopped working, and that's when I decided to go for a Korean hairdryer.