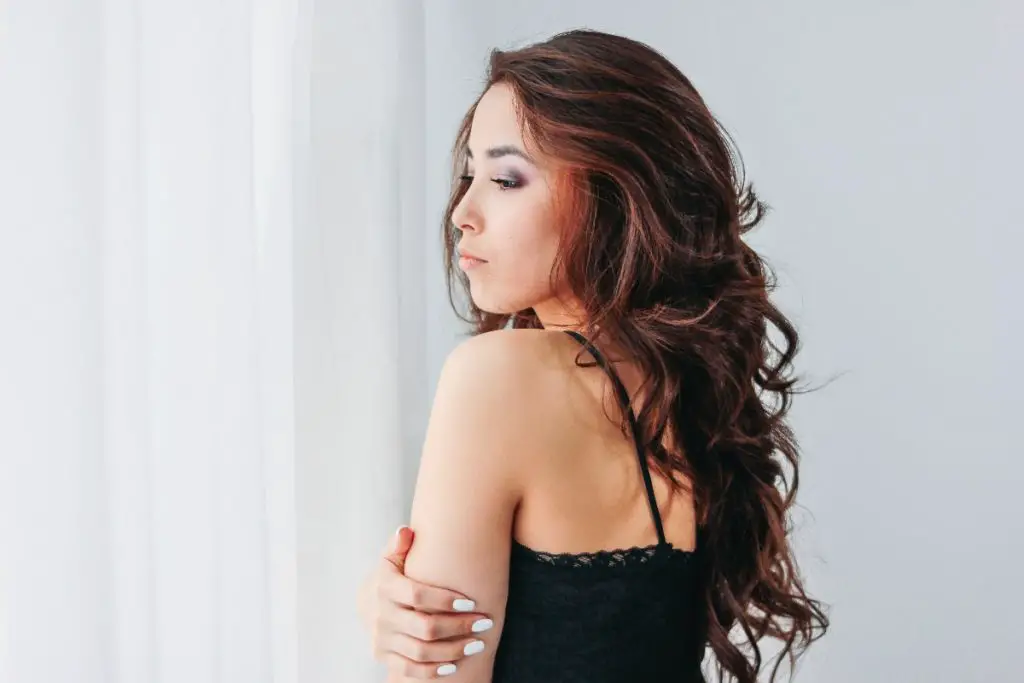 People from Asian normally don't have curly hair, it all comes down to genetics. Some people just use a perm to get curly hair and will maintain this for a couple of months.
In short: It may
not be common but there are some Asian people with curly hair. It mostly
depends on your genetics. Some people just go to the hair salon and get a perm.
So Yes, some Asian people are born with curly hair but it's not very common.
If you are interested
in getting curly hair yourself and you are Asian, then keep reading on.
Asian Curly Hair Routine
There are many things
you need to know if you want to maintain healthy curly Asian hair. It's not
just wash and blow-dry.
Even some people that are born with curly hair have to maintain it in a healthy way. You don't want your hair to be dry and looking duff all day.
Use Deep Conditioner
When do I need To Deep Condition My Hair?
If your hair starts to get tangled and the ends are getting very dry. Use a deep conditioner that really betters your hair. You will also notice that you get a lot of knots in your hair and it just doesn't want to co-operate.
No matter how many products or creams you add to your hair, it will just keep looking frizzy and dry. Then you should now that it is time to deep condition.
How Often Should I Deep Condition My Hair?
In terms of how often it's recommended to deep condition your hair. This really depends on your hair type but generally speaking we recommend doing it once a week.
If your hair is moisturized and not dry throughout the whole day, you really don't need to deep condition your hair. So give it a feel and you should know yourself if your hair is in a bad state where deep conditioning is really needed.
We recommend: OGX Argan Oil of Morocco Hair Mask
How to Deep Condition My Hair?
Start to wet your hair
Apply a little bit of shampoo to your head
Massage it for 2-3 minutes
Wash it out
Split your hair into different sections
Apply the conditioner to your hair
Use a brush to carefully comb the conditioner through the hair
Tie your hair up and use a hair processing cap
Put a deep conditioning heat cap in the microwave
Wear it for 15-30 minutes
Take it off and rinse it out with cold water
Style it and enjoy your beautiful hair
We recommend: Deep Conditioning Heat Cap & Hair Processing Caps
Use a diffuser when blow-drying
There are many ways to blow-dry your hair with a diffuser. Some people
like to air dry their hair others like to blow-dry it all comes down to your
hair type and personal preference.
So when we first discovered this product. We thought it's really
expensive and not worth the money. So we are not telling you to buy this
product because not everyone can afford it.
That's why we also added a cheaper one that's also really good for blow
drying curly hair.
We recommend: Dyson Supersonic Hair Dryer or Revlon 1875W Infrared Hair Dryer
Heat protection
In the market or online are lots of heat protector sprays. Lots of them
are really good and some are just okay.
Just try some heat protectors out and see which one suits you the most. Make sure you don't waste a lot of money and buy all of them at once.
We recommend: HSI PROFESSIONAL Argan
Oil Heat Protector
This heat protector is good if you are looking to use a flat iron or hot blow-dry your hair. It will give a layer of protection and stops your hair from getting really dry.
Do not shampoo every day
Like
it says, do not shampoo your hair every day. Make sure to let your rest and try
to let your natural oils stay in your hair.
If your hair really starts to look greasy try to use dry shampoo or only condition it. By washing your hair too often with the shampoo you can start to lose hair or your scalp can become very dry.
Dry shampooing is very popular these days, just spray it and brush it through your hair and you are good to go
It
only takes 1-2 minutes to fix your hair and it's way faster than shampooing it
again. You will love using dry shampoo once you try it.
We
recommend: Not Your Mother's Refreshing Dry
Shampoo
Why use
dry shampoo, because it will give you a clean look. Do not use too much and
spray it on the roots and use a brush to brush it out.