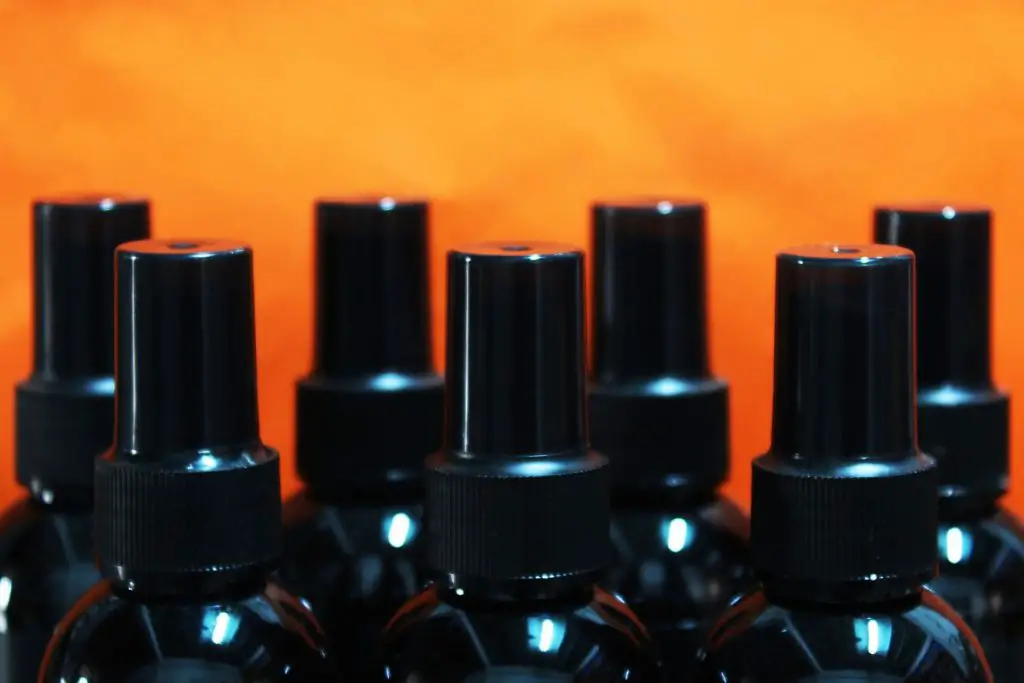 Spraying heat protectant on the hair works for about 4 hours on average. After 4 hours, the benefits will be less effective when styling or drying. Generally speaking, heat protectants should be used within 1 hour of spraying.
Most people that use a heat protectant style their hair right after. That's the best way to use it, but if you feel like it's not absorbed enough, you can wait up to an hour.
Studies have shown that heat protectants are great for the hair when you're going to use heating tools. It gives the hair an extra layer of protection which protects the hair from drying out and possibly damaging it.
How Much Heat Protection Spray Should You Use
The amount of heat protection sprays you should use is for everyone different. However, normally people spray about 4 times to cover most parts of the hair. This should be enough to cover the important parts of the hair before styling.
There are other sprays that require more sprays than 4. Those types of products often have more sprays and last longer. So, if you have one of those, spray it more than 4 times is fine.
It also depends on what kind of hairstyle you're going for and how long the hair is. For everyone, this is different. While people with short hair only need 2 sprays, people with long hair might need 5 to 6 sprays before the hair is fully covered.
If you aren't sure how many sprays to use, make sure to cover the most important parts of your hair that you're going to style with styling tools.
Can You Put Heat Protectant On The Night Before?
Yes, applying any sort of heat protectant on the night before can work as a moisturizer. However, if you're planning to style it with a blow dryer or styling tool, then no. Heat protectants are made to use right before styling the hair.
You can use it the night before, but it won't be as effective. It would be better to use a moisturizer or hair mask the night before rather than a heat protectant.
If you haven't used a hair mask yet, it has many great benefits, especially when you're using it overnight. It will make the hair silky smooth if you use it a couple of times. 
It's really a wonder product that I recommend to everyone, especially if you have dry hair and want to get rid of it. Most people don't use hair masks because they don't know about them or aren't interested.
What I can say is that it works way better as a moisturizer than a heat protectant. So, if you have very dry hair and are considering it, GET IT!
Should You Use Heat Protectant Before Mousse?
Yes, most mousses don't have the heat protecting element like a normal heat protectant. Generally speaking, mousses should be used right before blowdrying for the best results.
When using a heat protectant before the mousse will protect the hair from getting too oily. If you use mousse before, the hair can feel very heavy, and you probably won't like that.
If you're using a lot of products, try reducing the number of products. Using too many hair products can make the scalp stressed. To avoid this use, a handful of products you're sure of that will benefit the hair.
Keep in mind that using too many products isn't always good. It might sound good at the beginning when you see all those beneficial ingredients. 
However, those are made to sell you a product that you probably don't need.
Does Heat Protectant Work On Natural Hair?
Yes, heat protectants work on all hair types, including natural hair. Heat protectants are made to protect the hair from heat or dryness. It works on all hair types, but some products are specifically made for a certain hair type.
The one that I've been using for the last couple of months is this one. What I really like about this heat protectant is that it works surprisingly well on my natural hair.
It's one of the best that I've ever tried, and I've tried 10+ different heat protectants. So, I'm pretty sure it's one of the better ones.
If you're thinking about a new heat protectant, make sure to try the one I mentioned above. It can possibly change your whole experience when styling the hair. Another plus is that it smells amazing.
The scent, you can smell from pretty far away, but it's not too strong either. This is like the perfect heat protectant that I was looking for as a beginner many years ago.
All in all, it's worth trying since it's very affordable and does the job well.
Conclusion
After all, a heat protectant has many benefits for the hair. You can use it as a leave-in conditioner making the hair very smooth and moisturized. 
Having smooth and moisturized hair is something many people want to achieve. Stay tuned to our blog to find the newest tips and tricks about hair care.