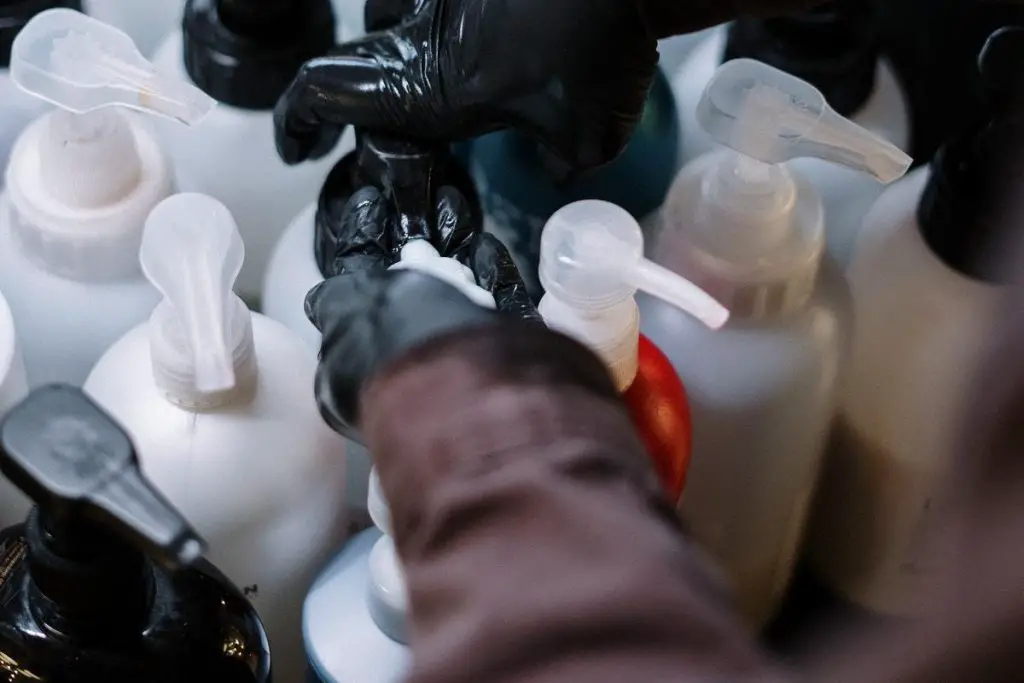 Using shampoo is an important part of caring for your hair, and no hair care routine is complete without it. It is also big business with many brands competing to offer the best quality products.
With shampoo being such a commonly used product in daily life, have you ever wondered what happens when you leave it in your hair for too long? 
Leaving shampoo in your hair for more than a few minutes can likely cause irritation and dryness in your hair and scalp. It is meant to be used and rinsed off almost immediately, and leaving it in your hair for longer would not result in extra benefits to your hair. 
Let's take a look at why leaving shampoo in your hair for a long time may not be such a good idea. 
What Shampoo Does to the Hair 
The shampoo is a cleaning agent used to wash off dirt, dead skin cells, oil, and sweat. Unlike hair conditioners, they do not usually soften your hair or protect it from damage. 
It also usually contains an ingredient known as sulfates. There are two types of sulfates commonly found in shampoos: 
Sodium Laureth Sulfate
Sodium Lauryl Sulfate
Sulfates are ingredients in shampoo that help to clean off oil and dirt. They are also found in detergents and soaps. They help to achieve a lathering effect when you wash your hair with shampoo. 
Although sulfates are useful for deep cleansing your hair, they are also the ingredients that make your hair and scalp feel dry and itchy if left in your hair for too long. 
To understand why this is the case, think of when you are washing your hands with soap. You wet your hands with water and lather them with soap for a few seconds before rinsing them dry.
What would happen to your hands if you left the soap on them? Your hands would start to get dry and wrinkly. The same logic applies if you leave the shampoo in your hair for too long. 
Shampoo works well to clean off the dirt from your hair if used for a short time (a few minutes) with water.
However, the chemicals in shampoo, particularly sulfates, can cause damage if left in your hair for too long. You might experience a burning sensation on your scalp that can be very unpleasant. 
What Is the Right Way to Use Shampoo? 
As mentioned earlier, shampoo has specific ingredients that wash off dirt from your hair. To use shampoo correctly:
Simply wash your hair with water and pour on a little shampoo. 
When you have the shampoo on, massage the shampoo into your hair so that a lather is created. 
Continue massaging for up to three minutes. 
Next, rinse it all off. When all traces of shampoo are gone, you may dry your hair. 
If your shampoo contains high traces of sulfates, it is better to rinse it off more quickly to prevent your hair and scalp from getting too dry. 
Generally, you should only need to wash your hair about twice a week. However, you might need to wash your hair more frequently if your hair type is oily or if you have exercised physically and sweated.
As a rule of thumb, you only need to wash your hair more than twice a week if you feel your hair becoming dirty and want to feel clean and fresh. 
Differences Between Shampoo and Conditioner
When it comes to a good hair care routine, both shampoo and conditioner are needed. However, many people are confused between the two products because they are often marketed and sold together. 
Purpose
As mentioned earlier, shampoo is a product that cleans your hair from dirt, dead skin cells, oil, and sweat. On the other hand, the hair conditioner is a product that softens your hair and improves its texture. 
When you wash your hair in the shower, you can use both shampoo and conditioner at the same time. Simply lather your hair with water and wash both products off from your hair after a few minutes. 
Leave-In Conditioner
However, there is one big difference between the two, and that is with a type of hair conditioner known as a leave-in conditioner. Unlike shampoo, a leave-in conditioner can be left in your hair without drying or damaging it. 
A leave-in conditioner is perfect if you are looking for a hair product that can stay in your hair for longer, giving you a clean and luxurious feel. You can also use it overnight. 
To use a leave-in conditioner, wash your hair with shampoo as usual, and dry your hair using a towel or a hairdryer. Next, pour a little leave-in conditioner on your hair and gently massage it in.
Once the leave-in conditioner is in your hair uniformly, you may go about your daily tasks (or head to bed if you are using it at night). 
Recommended Shampoo and Conditioner Products 
L'Oreal Paris EverPure Sulfate-Free Moisture Shampoo 
As we have seen, sulfates are ingredients that are often used in shampoo to clean away dirt and oil. However, they can also be harsh on the skin. A solution to this problem is to purchase a sulfate-free shampoo product. This shampoo from L'Oreal is a perfect example. 
Besides being free from sulfates, this shampoo is also free from other salts and surfactants that can dull or harm your hair. It also contains ingredients that help protect the color of your hair. At $1.59 / Fl Oz (29.6ml), it is an affordable product to add to your health care collection. 
The Honest Company Sweet Orange Vanilla Leave-In Conditioner
The Honest Company prides itself on producing natural and high-quality products, and this leave-in conditioner offering is no exception. Like the L'Oreal shampoo, this product is also free from sulfates and other potentially harmful ingredients such as parabens, synthetic fragrances, and silicone. 
This leave-in conditioner is made of ingredients that naturally soften and nourish the hair, such as argan oil and shea butter. It is also suitable for all hair types. 
To use this product, shake well and apply liberally on your hair. At $2.38 / Fl Oz (29.6ml), it is slightly more pricey, but its quality ingredients make it well worth your money. 
Dove Nutritive Solutions Daily Moisture Shampoo and Conditioner
If you find it a hassle to have to purchase shampoo and hair conditioner separately, a great option is to buy a two-in-one product. This product from Dove Nutritive Solutions combines both shampoo and conditioner in one bottle. 
Free from sulfates, this product can clean and moisturize your hair, all for $1.75 / Fl Oz (29.6ml). This shampoo and conditioner combo also features a pro-moisture complex that can protect your hair follicles without weighing your hair down. 
This product also comes in large bottles of 40 Oz (1.18L), so they can last fairly long, and you wouldn't need to worry about replacing it anytime soon.  
Conclusion 
Shampoo works by cleaning your hair from dirt, dead skin cells, oil, and sweat. However, if they are left in your hair for too long, they can cause dryness and irritation. They should be used on your hair with water and washed off after a few minutes. 
Consider using a leave-in hair conditioner for a product that you can use on your hair for longer. For the best quality products, consider purchasing hair products that are free from sulfates and other harmful chemicals.