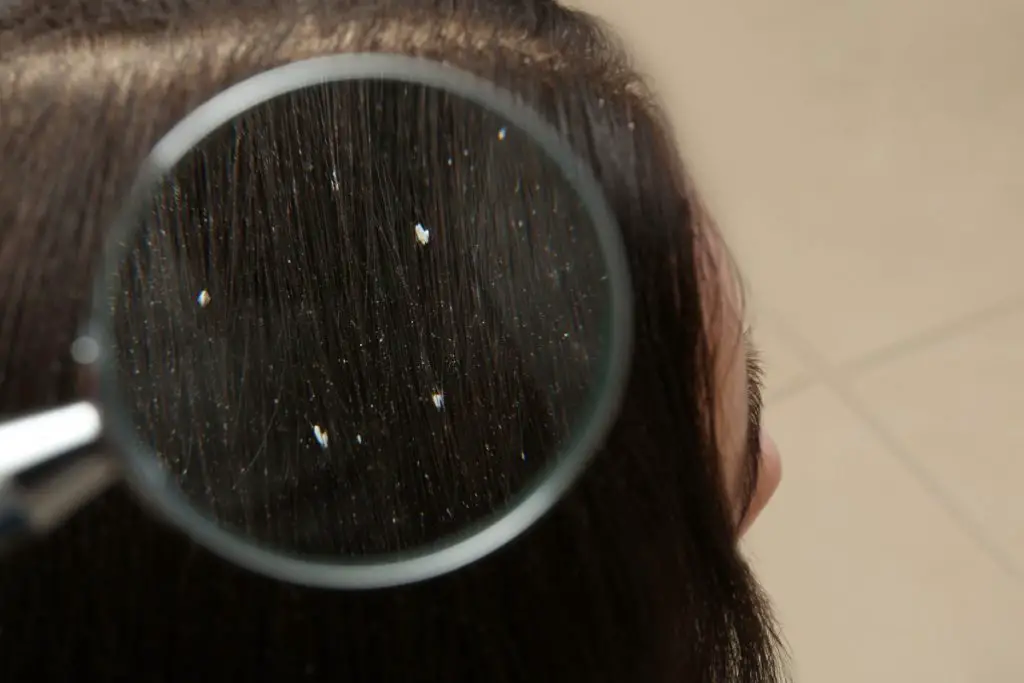 Dandruff is a huge problem that a lot of people have to deal with. It's not something easy that just goes away when time passes. You need to start taking action today because it might take some time before it all goes away.
I've had this problem myself and struggled a lot with this. After trying multiple different products and spending lots of money on products. I found a routine that actually worked. My hair has improved a lot, and I don't have dandruff anymore.
Why You Need To Use A Different Routine For Dandruff
When I first started out with this routine, I didn't know what to expect. There were so many products that I bought, which didn't even work. It was a huge bummer because of the money I spent. After trying out lots of different products, I found the best ones that worked for me.
It was a huge pain because it took a very long time to find the right products. That's why I made this routine for you to help with dandruff. Also, you don't have to go through the same mistakes that I made when I first started out.
I really wished someone did that for me, but there weren't any tips on the internet back in the days. So, here is my 5 steps Korean hair routine for dandruff. I also added the before and after photo's down below if you want to check it out.
An important note to keep in mind is that I use this routine 3x a week. It's really up to you how often you do it, but 3x a week seems to give me the best results.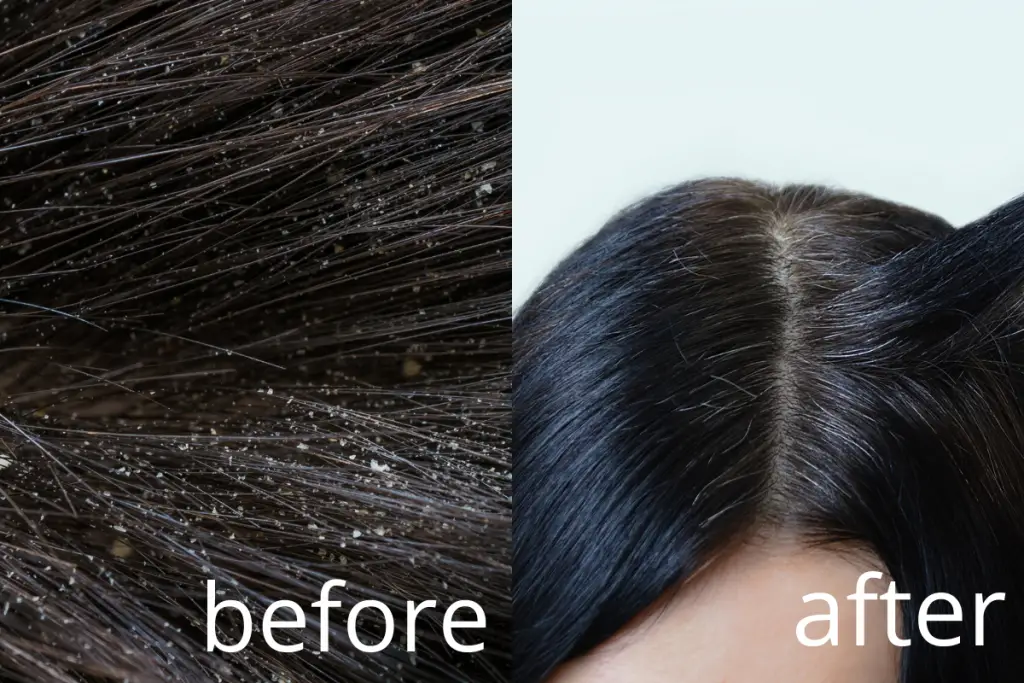 Step 1: Sea Salt Scalp Scaler
The sea salt scaler from CP-1 is great for helping the hair cleanse. It works great for a sensitive and dry scalp. What I really like about this sea salt scaler is that it works very well for dandruff and really improves the quality of your hair.
It's infused with 36% natural salt, and you only need a tiny amount for it to work. Another plus is that it really refreshes the scalp while also leaving a great scent. This is a must-have if you want to get rid of dandruff quickly.
I've been using this scalp scaler for about 3 months now, and I can't live without it. It's a life-changer for me because my hair was always dry and flaky.
If you can't stand a very irritated or itchy scalp, this is the perfect product for you. It really helps soothe the scalp while also keeping it clean. Still, to this day, I'm using this scalp scaler 3x a week to keep my scalp clean.
How To Use:
Make sure your hair is wet and apply a generous amount to the scalp. Massage it thoroughly for about 2 to 3 minutes and rinse with lukewarm water.
Step 2: Keratin Shampoo
For the shampoo, I use the Lador Keratin LPP shampoo for dandruff. It really helps with keeping your hair calm, and it doesn't feel heavy either. What I really like about this shampoo is that it also repairs damaged hair.
The scent of this shampoo is great, and you can smell it from pretty far. It's great if you have dandruff and greasy hair fast. The only downside when using this is that the bottle is a bit smaller than expected.
I'm using this shampoo every time I shower, and it feels very light on the hair. Another thing that I noticed when using this shampoo is that it helped my hair thinning.
This is the shampoo that worked for my dandruff, but some other brands also work great for dandruff. However, after trying many different shampoos, this was the one I kept coming back to.
I really love this Keratin shampoo because it leaves your hair very shiny and soft. If you haven't tried this shampoo, you should definitely give it a try.
How To Use:
Apply shampoo to the hair and massage it for about 1 to 2 minutes. Rinse it with lukewarm water and move on to the conditioner.
Step 3: Deep Conditioner
Many good conditioners work for dandruff, but the one that I really like is from the Nature Republic. It's the Argan Essential Deep Care Conditioner. This conditioner works great for every hair type and especially well for dandruff.
I found that this conditioner isn't a normal conditioner. It's a deep care conditioner that takes longer for it to work. Normal conditioners are done within 2 to 3 minutes, leaving in your hair.
This one takes at least 15 to 20 minutes, but it gives way better results. I really love the deep care conditioner because there's argan oil inside, which is one of my favorite hair care products.
The results you get from this conditioner are pretty surprising. When I first started using this, I expected to see some improvement at least 3 months in. However, what really surprised me is that I saw results within 2 weeks.
I've never used a conditioner that worked as good as this one for dandruff. This is a must-have if you're doing these 5 steps Korean hair routine for dandruff.
How To Use:
After the shampoo applies the deep conditioner to your hair. Let it sit for about 15 to 20 minutes before rinsing it with lukewarm water.
Step 4: Hair Mask (1x a week)
The hair mask, I only use 1x a week because that's what works the best for me. I use the Tsubaki Camellia Premium Repair Hair Mask from Shiseido.
I don't think it's a necessity to use it more than once because I've tried it myself. When I started using it 2 to 3 times a week, I didn't notice any differences. So, for me, it's just a waste if it doesn't give results.
Using it 1x a week is enough, and that's what worked really well for me. This hair mask works very well for dandruff while also leaving your hair shiny and smooth.
The scent is very pleasant, and it's like lychees. Another plus is that it also works as a heat protectant. So, no need to buy another product for that.
How To Use:
After rinsing the conditioner apply the hair mask ONLY to the ends of your hair. Do not apply it to the scalp. Let it sit for 10 to 15 minutes and rinse with lukewarm water.
Step 5: Hair Serum
For the last step, I use a hair serum to give it a finishing touch. I use the Silk Scarf Hair Hologram Hair Serum from Etude House. I really love the scent of this hair serum, and it works great for smoothing out the hair even more.
This is not a product that you need for dandruff, but it did help my hair stay healthy. It's like giving your hair that extra boost that it might need for it to stay good throughout the day.
The bottle itself will last you between 1 to 2 months, depending on how much you use it. If you have dry hair, this is a product that I highly recommend.
It works great as a moisturizer, and it smells amazing. I also really like the packaging. Another thing that I noticed is that my split-ends were gone after using this for a couple of months.
How To Use:
Apply to dry hair and scrunch it a bit for the best results.
Related posts:
Final Thoughts
This is the Korean hair routine for dandruff that actually worked for me. I'm really happy that I can share this routine with you. If you have extreme dandruff, this will help fix it faster than you think.
In the beginning, I had dandruff for a very long time and didn't know how to deal with it. It was very annoying because everyone kept pointing out that I had white flakes in my hair. At that point, I started taking hair care more seriously and trying out multiple products.
After a long time and trying out those products, I finally found a routine that worked, and to this day, I follow this routine. I hope this Korean hair routine for dandruff has helped you with your dandruff.