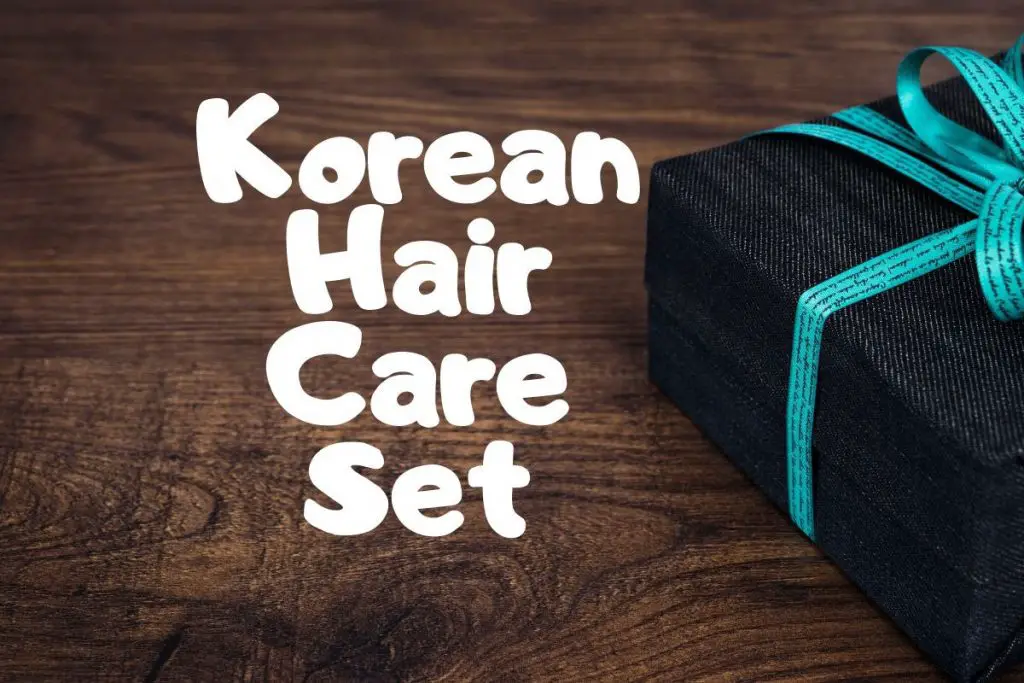 What I have included in the Korean hair care set are the 5 essential hair products that I think are really important. Those products are the 5 steps to get the smooth and silky look you always wanted.
There are a lot of different tutorials for the Korean hair care routine, but I think that you don't need a lot of items. Using too many products could damage the scalp, so it's important to know what you are using. This Korean hair care set is the perfect gift for your friends or family. It has all the products that you need to achieve smooth and silky hair.
Here are the 5 Korean hair products for the perfect gift or maybe even for yourself.
1. Shampoo – Pyunkang Yul
The Pyunkang Yul shampoo works great for every hair type. That's why I have included this in the Korean hair care set. It doesn't have any fragrance or alcohol, and it won't cause any skin irritations. It foams extremely well, and it is even suitable for babies.
When you start using this as a cleanser, it feels very gentle, it's not too harsh. I have dry hair, and this worked perfectly for my hair. It made my hair really smooth only after 1 to 2 washes. You could literally use this for everyone in the family.
Another plus is that this shampoo is really mild. It almost feels like using water, except it gives a lot of foam. Which is really good because it gives you a clean feel after using it.
Some other brands have a very strong fragrance, and I personally don't like that. This one, however, doesn't even smell a bit. It's really good, and I highly recommend it.
How To Use:
Add a little water to your hair. Make sure it's a little bit wet, apply the shampoo to your hair, and massage it thoroughly. Rinse it out and move on to the conditioner.
2. Conditioner – Shiseido Ma Cherie
The Shiseido Ma Cherie conditioner works perfectly for damaged hair. It gives the best results if you have normal to extremely damaged hair. It provides that smooth and silky look. The scent is surprisingly pleasant, it smells a bit fruity.
This is one of my favorite conditioners I've ever used. It keeps my hair moisturized throughout the whole day. That's what's really important to me when I look for a good conditioner. You don't want a conditioner that dries your hair after only 1 or 2 hours.
What I really like about this conditioner is that it works perfectly with the shampoo I've mentioned above. Your hair gets really soft and will stay like that for a very long time.
I always recommend this to all of my friends that have really damaged hair. One of my friends that has used my tips really saw improvement. What surprised me that she only used it for 1 week. She still uses it to this day and is really happy with the conditioner.
If you are considering buying this conditioner. I advise you to try it at least once, you don't know how it works until you try it out. It's also a great gift to give as a Korean hair care set.
How To Use:
After using the shampoo, add a generous amount of conditioner to your hair. What's important when applying conditioner is to cover all the hair, then rinse it with lukewarm water.
3. Hair Serum – KAMINOMOTO Super Strength
The hair serum is essential when it comes to the Korean hair set. It protects your hair and strengthens it. You don't want your hair to feel really weak and damaged. The hair serum provides an extra layer of protection.
Another plus is that this hair serum contains kamigen E and K. Your hair will look healthy in just 1 or 2 weeks of using this hair serum.
In the last couple of years, I've tried multiple hair serums, and this is the one that worked the best for me. Only after using this for 1 month, my hair improved significantly. It got way thicker and looked healthier.
The bottle I use is almost empty, so I ordered 3 more at once. That's how much I like this hair serum. It also reduces the itchiness on your scalp. It's a perfect gift for one of your friends, especially if you know that they are struggling with their hair.
How To Use:
Apply a generous amount onto your scalp. Massage into your scalp with your fingertips, and that's it. (use it every day 1x or 2x)
4. Hair Mask – Lador Tea Tree Scalp Clinic
The Lador Hair Pack works very effectively within the Korean hair care set. It smoothes the scalp really well and removes the dead skin cells. This hair mask also gives a really cooling touch when applying to your scalp.
What I really like about this hair mask is that it contains plant-based extracts from green tea. Green tea is really good for the hair and also for your overall health. It works great for damaged hair, which not all hair masks do.
Just try using this once or twice a week for 2 months straight, and the results will mind blow you. When I started out using Korean Hair masks, I didn't know what to expect but after 1 month. My hair improved a lot even now, I still use it every month.
It also gives off an extra shine to your hair, which makes your hair perfect for taking selfies. Your friends will be like, "wow" what hair products do you use?
How To Use:
After using the conditioner, squeeze off the excess water and apply the hair mask. Massage it gently and rinse it thoroughly.
5. Hair Mist – A'PIEU Raspberry Vinger
The hair mist is an extra product that we added into the Korean hair care set because I really like it myself. It gives your hair that fresh scent that will make everyone jealous.
It also makes your hair shine and extremely soft after just a couple of sprays. It gives you that feeling after going to the hairdresser. Your hair will also reduce itchiness and smell really pleasant throughout the whole day.
It's like the perfect gift for your friends.
How To Use:
Spray on your hair from a 10 cm distance and let it absorb.
Related Articles:
The 4 Best Korean Hair Dryers
The 8 Best Korean Hair Extensions
Conclusion
Now that you've come to the end of this article, you probably know which products are great for a Korean hair care set. Make sure to think about it thoroughly before making and impulsive purchases.