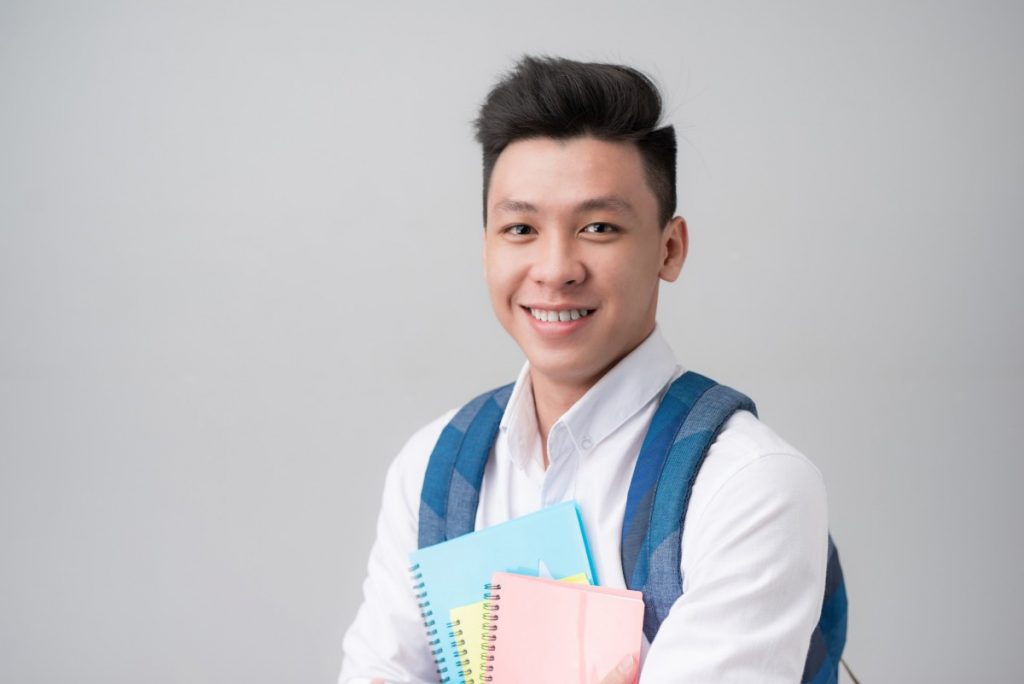 Growing out Asian hair might be harder for some people than others. I have had this problem myself in the past, and it was very hard to style. The hair grew out in all directions, which made it even worse.
To grow out Asian hair in the direction you want, you should stop shampooing every day. After shampooing the hair, do not aggressively towel dry the hair because this could make it even frizzier. Start using conditioner and hair masks, and this will make the hair softer.
Your hair should be soft and won't be as annoying as it was first after trying those tips. The hair will adjust to those products and eventually get used to it. Even if you don't have the budget to buy different hair products, you should save for it.
In the end, it's all worth it, and your hair won't be as frizzy/spiky anymore like before. What you have to keep in mind is to get haircuts regularly. This will prevent the hair from getting too long and sticking together.
Find The Right Styling Products
When it comes to growing out Asian hair, finding the right products to style with is extremely important. You really don't want to use a hair spray that doesn't suit your hair type. 
This can make the hair very sticky and even feel heavy at some point. So to avoid this, you should find the right styling products. This will help you a lot when growing out Asian hair. 
It might take some time, but it will all be worth it. Some styling products that I really like are.
Shiseido Fino Premium Touch Hair Mask is one of the best hair products that I've ever used. It's not really a styling product, but it makes the hair very soft and smooth. 
If you're looking for a way to make your hair soft and shiny, this is the one you should go for. The hair won't get messy at all with this hair mask.
I recommend you to use this 2 to 3 times a week for the best results. It works for all hair types, and the results you get from this are outstanding.
Avoid Blow drying
Blow drying the hair is something to avoid if you have really dry hair. By using any heating tools, the hair can get damaged. Most people with Asian hair have dry hair, which is pretty common.
So, to avoid making it even worse, do not use any heating tools on the hair. Suppose you want to use a heating tool like a flat iron or blow dryer. Make sure to use a heat protectant to protect the hair.
I have been using many different heat protectants over the years, and many of them didn't really work for my hair type. It took me a lot of time and money to find the right one. 
If that has been happening to you, here are the best heat protectants for Asian hair. Those are the best ones that I've tried myself, and it's been a great experience.
If you are going to blow dry your hair, make sure not to overdo it. Make a hair routine and stick to that.
Use Natural Oils
Natural oils are very important to keep the hair healthy. it helps a lot because the natural oils distribute throughout the scalp. There are many different oils you can use but make sure to find the right one.
Some oils that I use myself are argan oil and coconut oil. Those two are very popular in the hair community and used by lots of different people. Of course, you can use other oils because everyone has different needs.
The products you can use to keep the hair healthy are endless. There are many to count and a lot of them do a great job. You just need to keep in mind which one works for you and which one doesn't.
You can find this out by testing most of the oils and eventually you'll find one that works for you.
Regular Exercise
Regular exercise is something that is always recommended. It doesn't matter if you have hair or not. Exercising is something that everyone needs to do to keep the body healthy.
So, you might be thinking, what does this have to do with growing out Asian hair? Well, when you exercise regularly and keep the body healthy. The hair will also get more nutrients, which makes the hair shinier and smoother.
Exercising has many benefits, and it's something that a lot of people do. If you haven't been exercising yet, I highly recommend you start doing this. It's one of the best things that you can do right now.
Go For A Haircut Every 2 or 3 Weeks
Getting a haircut is very important if you want to grow out your hair. Especially Asian hair, because most people want to go for a Korean hairstyle. These hairstyles are getting more and more popular, which makes sense.
Korea has been blowing up since the BTS era. A lot of people look up to them and want to look like those Kpop idols. It's pretty important to get regular haircuts if you want to grow out Asian hair.
When Asian hair gets too long, it will look messy, and most people don't like that. So, make sure to get regular haircuts and keep the haircut fresh.
Related Articles:
How To Get Asian Hair and Styling Tips
How To Style Asian Hair
Conclusion
At the end of the day, it's up to you if you're going to follow these tips. From my experience growing out, Asian hair is pretty hard and especially if the sides get spiky. These are the main problems Asians have to deal with when growing out of their hair.
Just make sure to go for a haircut every 2 to 3 weeks, and you should be good to go. Also, make sure to use the right hair care products since that will make or break it for most people.
I have been using the same routine for the last couple of years and never had any problems. My hair has never been this smooth and shiny. I highly recommend everyone to stick to a strict routine to maintain a healthy scalp.