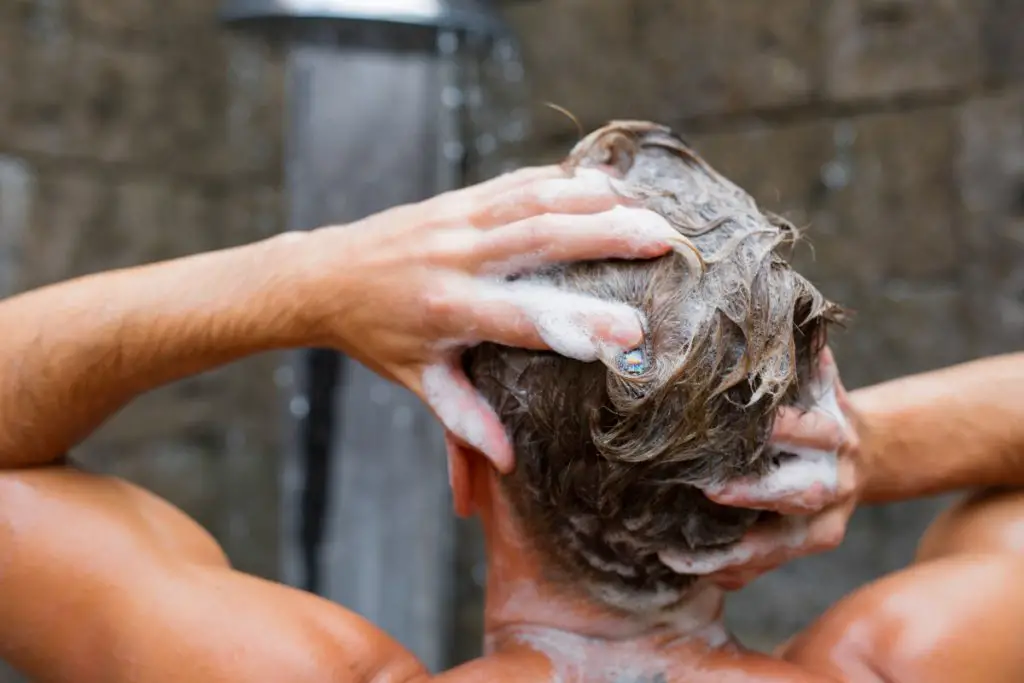 Washing the hair is something everyone does every day or at least once a week. These days it's very important to stay clean and healthy because of harmful germs. When buying shampoo, you want to know if it actually does the job and keeps you clean, right?
Yes, using shampoo will get rid of most of the germs, but you should know that the hair isn't the place where most germs would go. So, you don't have to worry about getting ill from not washing the hair. Some people go weeks and even months without washing the hair.
Shampoos are products that everyone uses, so it's very effective when cleaning the scalp. It will leave the hair clean and get rid of potentially harmful germs that could be there.
What About Body Wash, Does It Also Kill Germs?
Another question that gets asked a lot is if body wash also kills germs like shampoo, yes it actually does. The body wash is made to keep the skin clean, and it kills 99% of the germs.
This gives a very refreshing feeling that makes everyone feel good when they come out of a shower. 
So, there are differences when it comes to different brands and ingredients.
The differences between those are mainly the ingredients. Some people are allergic to these ingredients, while others aren't. So, it comes down to what you want and needs to keep the skin healthy.
Is Shampoo Antibacterial?
Yes, shampoos can have antibacterial ingredients. Not all shampoos have this, but if you're looking for an antibacterial shampoo, it's best to go for products with apple cider vinegar or other natural oils. 
Those are the best ones you can go to. Apple cider vinegar is known to be very healthy and good for the body itself.
I have been using an antibacterial shampoo for the last five years now, and it has been a great experience. My hair has never felt so clean and smooth, and there are many brands that I've tried.
At the end of the day, it's up to you which one you're going to buy. Make sure to do some research first before actually impulse buying a lot of different ones. This was a mistake I made in the past, where I would buy five bottles just to test them out.
Best Shampoo To Kill Bacteria
Nizoral A-D Anti-Dandruff Shampoo
The Nizoral A-D is great for killing bacteria, and it's definitely one of the better shampoos out there. This works for all hair types and is made for people with dandruff.
What I like about this shampoo is that it prevents itchiness on the scalp while also keeping it healthy.
The shampoo lathers extremely well and makes you feel clean after using it. The shampoo also works for color-treated hair and kills almost all bacteria.
So, if you haven't tried this yet, I highly recommend you give it a try. The brand itself is very well known and used by lots of people worldwide.
Suppose you're that person that has to deal with a lot of dandruff and tried lots of different products that didn't work. This is the one you should go for, and it clears dandruff in less than three uses.
Antifungal Shampoo
The antifungal shampoo from Healthy Hair Plus works very well to kill bacteria. This shampoo uses natural ingredients to prevent damaging the hair. It also repairs broken ends and dry hair, which is great.
What I like about this shampoo is that it makes your scalp feel extremely clean and refreshed. I have been using this for around 3 to 4 months now, and my hair has never been this smooth.
Another plus is that this shampoo has coconut oil inside, which is really beneficial for the hair. It also has grapefruit seed extract, which is also known to be good for the hair.
A lot of my friends have been recommending this to me since it worked that well for them. At first, I was a bit hesitant but decided to give it a try after a couple of weeks.
I'm happy I went for it since it makes my hair very smooth and smooth within only a week. This shampoo gives the hair fast results and is affordable.
Pure Tea Tree Oil Shampoo
This shampoo from Maple holistics is great for hydrating the hair and cleansing. The shampoo works for all hair types, which is great. You can use this as a daily shampoo, and it makes the hair soft.
What I like about this shampoo is that the bottle itself is pretty big for its size. So, if you're looking for an affordable shampoo that's long-lasting, this is the one you should go for.
Another plus is that the shampoo is sulfate-free, which means there aren't any harsh chemicals in it. It kills the bacteria when using this shampoo, which makes the hair feel extremely clean.
A couple of years ago, I used this as my main shampoo. It gave great results; the only reason why I switched to another one is that my hair needed a conditioner after this.
I always recommend using a conditioner after shampooing the hair. This will give the hair an extra layer of protection.
Sulfur 8 Medicated Shampoo
The shampoo from Sulfur is medicated, which means it works for all hair types and restores pH balance. The shampoo itself might be a little strong for some people, but it works excellent for deep cleaning.
What I like about this shampoo is that it's a pretty big bottle for its price. The shampoo is affordable for everyone and makes the hair soft and shiny.
One of my family members has been using this for the last couple of years, and she loves it. It cleans the scalp extremely well that she keeps recommending it to me.
Still, to this day, I haven't personally tried this one, but it's definitely one my list. I'm going to give it a try and update this article.
So, if you want to give it a try before I go for it, it's worth giving it a try since the price isn't that high.
Conclusion
Now that you've reached the article, I hope it has helped you find the right information about germs and shampoos. In short, shampoos do kill germs, and body wash does too. Make sure to find the right shampoo for your hair type to achieve the best results.
As for the best shampoos for keeping the hair clean, I've made a list of the top 4 that actually works for cleaning the scalp. Just give it a try and use it for a couple of weeks.