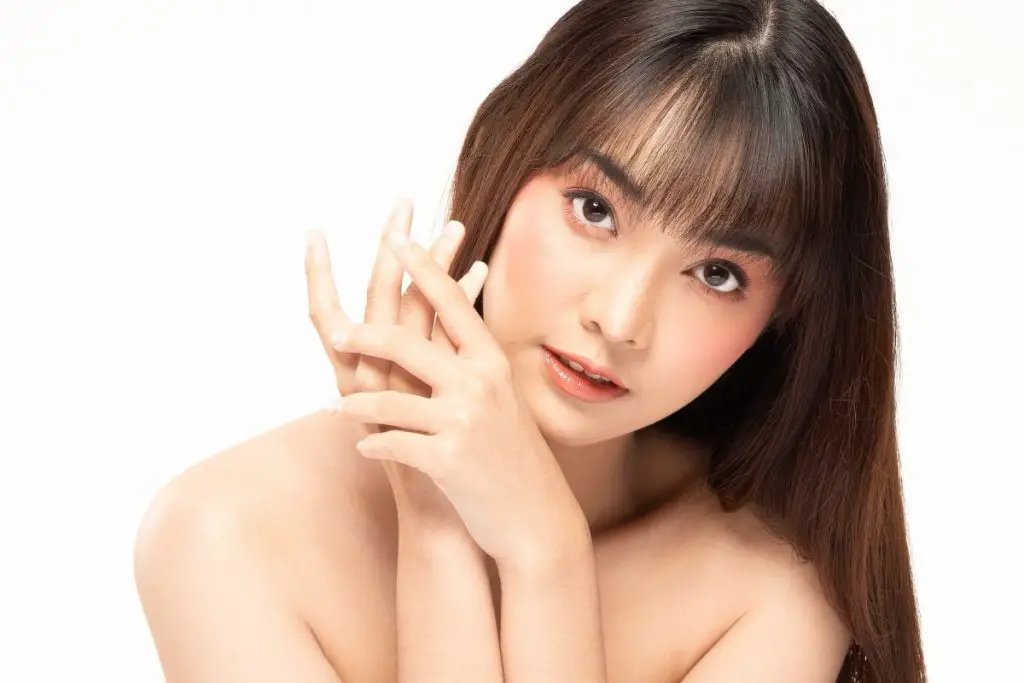 Following a certain hair care routine is a good tip; it might work well for you. This all depends on your hair type and what kind of products your hair needs. My Asian hair is always very flat and thin, so if you have the same kind of hair, this routine is perfect for you.
I've tried many different hair products in the past, and none of them worked well for me.  After many different tries, I've concluded to do it myself and find my routine. Here are the seven steps to my Asian hair care routine.
Lador – Keratin LPP Shampoo
Using a good shampoo is the most important hair product when it comes to a hair care routine. I use the Lador LPP shampoo, which I love. It works excellent for all hair types and gives my hair a great boost.
Another plus is that it contains jojoba, avocado and castor oil. These ingredients are very beneficial for Asian hair while also keeping it shiny. I've been using this shampoo for almost three years now and never had any problems with it.
It's one of the best shampoos out there, especially for Asian hair. If you want your hair to get silky smooth, this is the one you should go for.  The only downside is that the bottle might be a little small, but the quality of this is just excellent.
It feels very lightweight and pleasant in hand. It doesn't make your hair sticky. The scent of this shampoo is also good; it's not too strong. If you haven't tried this shampoo yet, I highly recommend it.
I always advise my friends to try this shampoo, and most of them do, they all love it and are still using this shampoo to this day. I can bring dead hair back to life with only the shampoo. Not many hair products are this good out there.
Shiseido – Ma Cherie Conditioner
The 2nd hair product that's important for a good Asian hair care routine is a conditioner. You probably already knew that, but you should look for a conditioner that suits your hair type. I use the Shiseido Ma Cherie conditioner.
I love this conditioner because it helps damaged hair follicles repair while also making it feel refreshing. Normal conditioners you slap onto your hair, let it sit, rinse out, and you're done. That's what most people do, but with this conditioner, it's a little bit different.
The conditioner that I use comes with two types and are both different. What I normally do is use one every week and the other 3x a week. This all comes down to personal preference, but I like this way of doing it.
Another plus is that the scent of these conditioners is outstanding. It's one of the best scents out there, and I always get complimented on how good it smells.
Shiseido – Fino Premium Touch Hair Mask (1x a week)
A hair mask is the hair product that will give you that extra boost. It makes your hair look so much better, and you only need to use it once a week. It's very good for the hair while also giving it a great shine.
I use the Shiseido hair mask, and this is one of my favorite hair masks of all time. It smells amazing and keeps your hair healthy. You only need a small amount of this hair mask for it to work.
When you're looking for a hair mask that works for Asian hair, it's important to know what kind you need. Some people buy random hair products and expect it to work. This is the wrong mindset. You should find out what the hair mask is for and how it could benefit you.
If you haven't tried this hair mask, I highly recommend you trying it out at least once. It works extremely well for Asian hair, and I've been using this for almost four years now.
Etude House  – Silk Scarf Hair Hologram Hair Serum
This hair serum is great if you have dry Asian hair. I bought this a couple of months ago, and I love it. It works great if you use it for styling, brushing, or drying your hair. What I like about this hair serum is that it gives your hair some extra volume. The serum also works effectively if your hair is very frizzy.
Split end is a huge problem for most people, and this hair serum will fix a lot of that. Normally people go to the hair salon to cut their split ends, but with this hair serum, that's not necessary.
Another plus is that you only need a tiny amount for this to work; a few drops of the hair serum can do wonders. What I noticed is that the results you get from this hair serum are pretty much instant, your hair will get very smooth.
This is that one product that's a must-have it does work, and it's also very easy to apply. The bottle itself is somewhat on the smaller side, but it's worth it.
Related posts:
Final Thoughts
After all, it's up to you if you're going to follow this Asian hair care routine. This routine is easy to follow and works pretty well. Of course, there are many different routines out there, but those are far more complicated and often require more products.
When you're buying more products, it will also increase your budget for your hair care routine. So make sure it fits into your budget and look for something that suits your hair type.
After trying many different routines, this is the easiest routine for most people. It doesn't require a huge budget to follow this, and it's very simple. It will increase your hair over time, but it takes time. Remember that everything takes time; it's like going to a gym and expecting results within a week.
If you're going to follow this routine, you should expect results within 2 to 3 weeks. That's the average time most of my friends notice a benefit from these hair products. I hope this article has helped you with your Asian hair care routine.