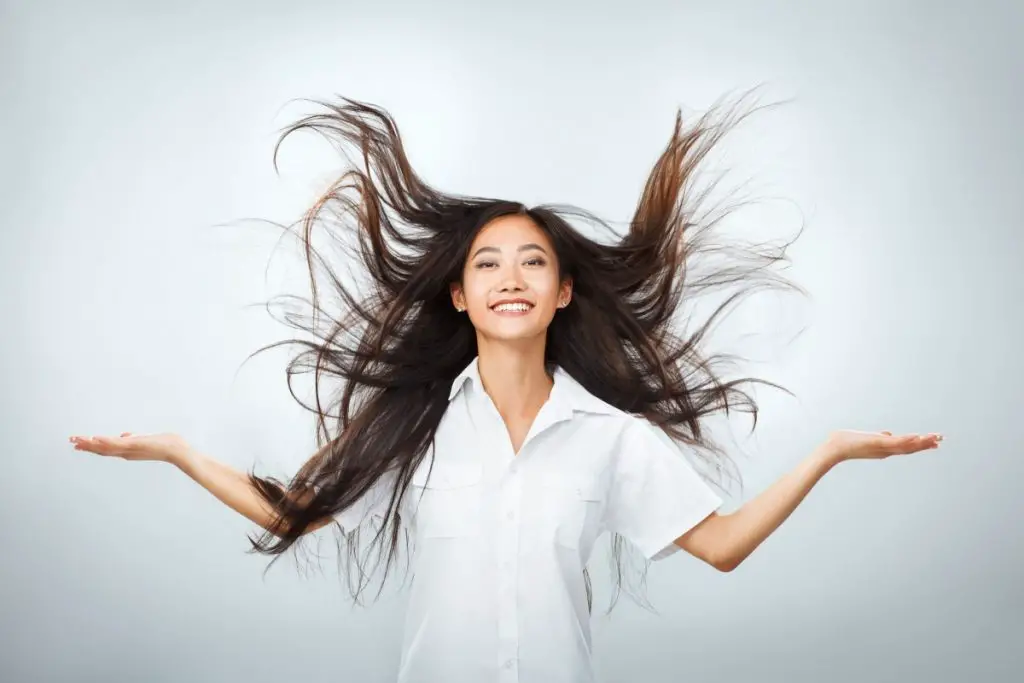 Getting more volume is always hard. Not only are women dealing with this problem but also men. I'm Asian myself, and my hair is always very flat after washing it. Throughout the years, I picked up some tips to get more volume in Asian hair.
I learned these tips by looking at YouTube videos and from professional hairdressers. Every time I went to my hairdresser, she recommended me how to get more volume. Since I had Asian hair and my hair was always flat, I just straight up asked for help. She gave me some really good tips that I tried myself. So here are the 11 tips to get more volume in Asian hair.
1. Wash Your Hair With A Volume Shampoo And Conditioner
Washing your hair is really important when you want to get more volume. I've noticed that some shampoos gave me more volume than others. I didn't know what it was and how but it worked for me. So still to this day, I stick to the same products because they actually work.
The same goes for the conditioner. After trying out tens of different brands from all over the world. Some gave me a little more volume than others. There was 1 brand that stuck with me, and I still use it to this day. The BIOLAGE Volumebloom shampoo and conditioner. Those 2 products are really amazing if you have fine Asian hair and want some extra volume.
The BIOLAGE Volumebloom Shampoo works really well if you have fine Asian hair. What I really like about this shampoo is that it's very lightweight and gives a lot of volume to your hair.
The BIOLAGE Volumebloom conditioner also works great to get more volume. The conditioner smells amazing, and it's definitely one of the better ones I've used so far.
These are the products that I use when I'm washing my hair. I don't wash my hair every day, but when I do wash it, I use products. Normally I wash my hair 3 to 4 times a week, depending on how much oil has built up throughout the week.
After washing your hair, I highly recommend using a wet brush if you are going to comb your hair. A wet brush isn't as harsh as a normal one, and it works excellent.
2. Blow-Dry Your Hair Upside Down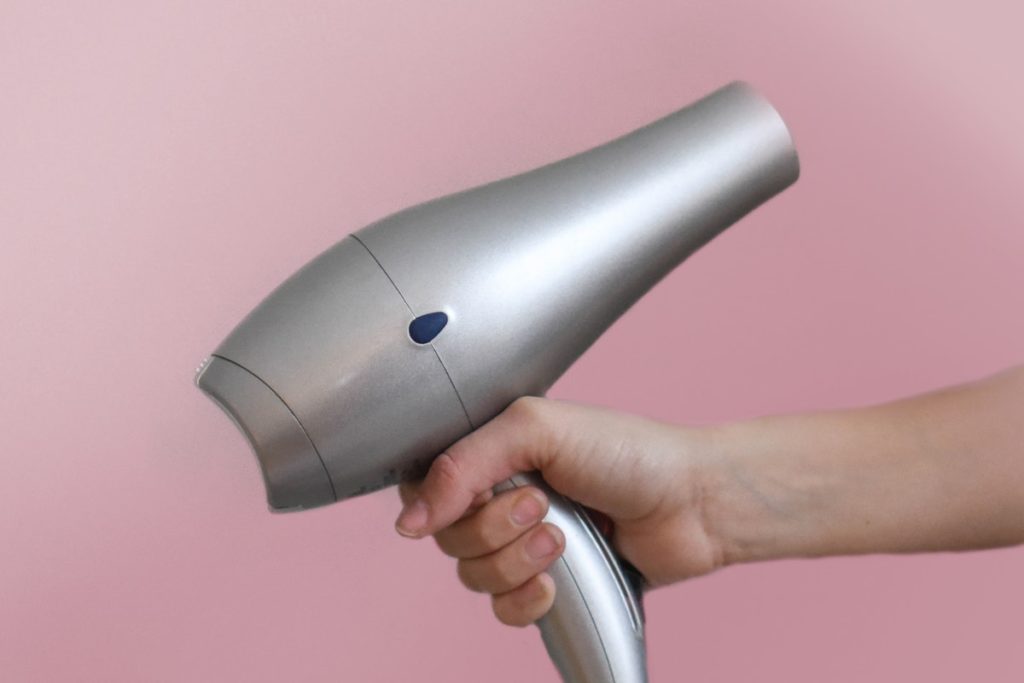 If you are going to blowdry your hair. You should blowdry it upside down. This way, your hair will get way more volume and won't be as flat. I do recommend to use your fingers and play with a bit, so your hair gets a bit messier.
Another tip is to blowdry your hair on the opposite side of which you are going to style it. Once you're done with blowdrying, you can flip all your hair to the other side, and it should create a lot more volume.
Remember to use a heat protectant if you are going to blowdry your hair. You don't want your hair to get very dry when blowdrying too hot.
3. Use A Round Brush
Comb your hair with a round brush when styling your hair. A round brush can give a lot of volume when used right. I have not mastered this myself yet, but once I get better at it, it will be a lot easier.
What you want is a good high-quality round brush that goes a long way. Not one that only works for 1 or 2 months before breaking it. Invest in a really good round brush because that can make the difference in getting more or less volume.
The round brush that I really like is this one here. You don't have to buy the exact same one, but from my experience, that is the best one I've used so far. I have used like 6 round brushes, and all of them didn't work for my hair.
4. Strong-Hold Hair Volumizing Hair Spray
A hair spray can make it or break it when it comes to volume. Some hair sprays that I've used in the past were very stick, which I didn't really like. However, it's a personal preference, and to find the best one that suits your hair type is just by testing them out.
The one that I really like is the Kenra Volume Spray Hair Spray. This hair spray doesn't feel sticky at all, and the hold is amazing. It holds up to 120 hours, and one bottle goes a long way.
I have used this hair spray for the last 3 years and still use it to this day. When you have flat Asian hair, it's very hard to get more volume. With this hair spray, it's not hard at all, just shake it well and spray it onto your hair.
What you have to keep in mind is to spray it on dry hair. This hair spray is more of a finishing spray that gives a little more volume.
Using this hair spray is not a necessity. Still, it's definitely one of the products I recommend if you have fine flat Asian hair.
5. Dry Shampoo
Dry shampoo should be used when you aren't going to wash your hair the next day. It actually does make your hair get more volume, but it could feel heavy on some people when not applied well.
Make sure to always shake the bottle first before using it and spray it onto the roots. Do not spray it on the ends because that doesn't have any effect on getting more volume. After spraying it, use a comb to brush it thoroughly.
Brush it for about 3 to 5 minutes and do it in the opposite direction to create even more volume. Once you're done with brushing, touch it up with your hands to get it in the style you want. Apply some hairspray, and you're ready to go.
There's no specific dry shampoo that I really like, but one of my friends uses this one here from Amazon. She's also Asian and has very flat fine hair. She told me that this dry shampoo is literally a life-changer for her.
What I did notice is that she got way more volume, so the product that she's using is working really well for her.
6. Condition Only At The Ends Of Your Hair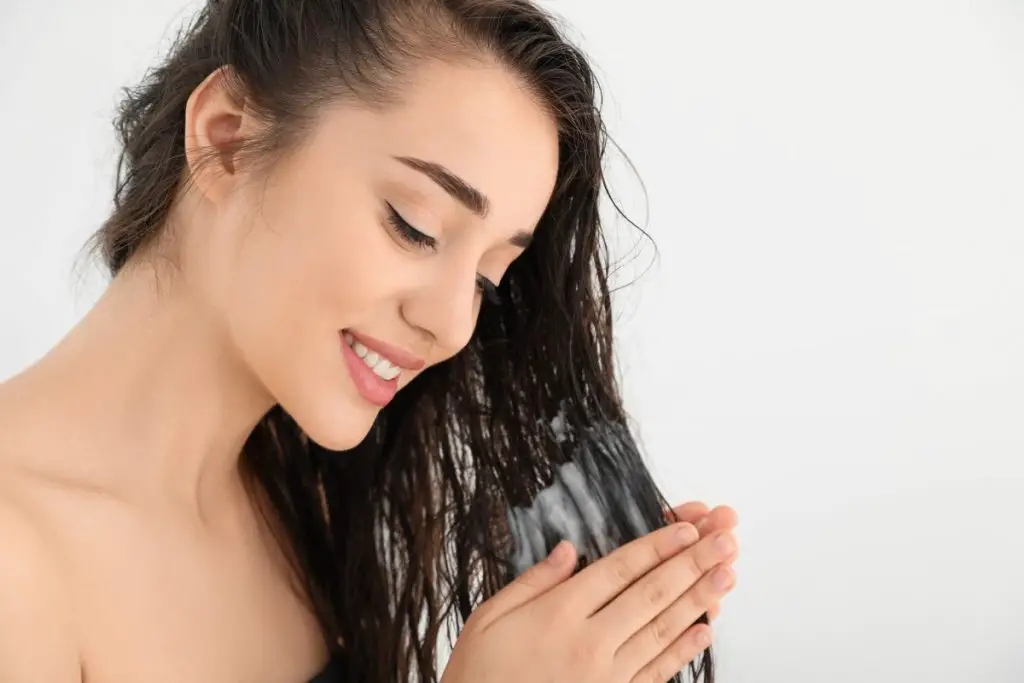 Why you should never apply conditioner straight to the scalp is because I can make your scalp even more oily. For the best results, you have to apply it only to the ends of your hair.
When applied to the scalp, it can feel very heavy, and some people really don't like that. So what I recommend is to use a lightweight conditioner that is very effective for getting more volume and only apply that to the ends of your hair.
I have been doing this for the last couple of years, and I really noticed that my hair got more volume by not applying it to the scalp directly. This is a mistake that a lot of people make, they just apply the conditioner all throughout their hair and rinse it off.
7. Double Shampoo
There are many different shampoos out there and by testing a lot of different brands myself. Some brands don't really work for Asian hair. So if you went to a department store yourself and asked for help, they probably just wanted to sell you something.
That happened to me a lot of times, and none of those products worked for me. Surely they might work for others, but as an Asian with fine hair, it just didn't.
So when I'm talking about double shampooing your hair, I don't actually mean using the same product twice. What you should do is use a clarifying shampoo for your first wash and a regular shampoo after.
I recommend only do this 1x a week, so it doesn't get too harsh on the scalp. The clarifying shampoo that I really like is the Neutrogena Anti-Residue Clarifying Shampoo because it feels very lightweight on the scalp.
The bottle itself will last very long since you're only using it once a week. It works for all hair types and really makes my scalp feel very moisturized after. As for the regular shampoo that I use is the BIOLAGE Volumebloom Shampoo.
If you haven't tested double shampooing your hair, I recommend it to try it at least once, so you know how it feels and if it works for you.
8. Rinse Extremely Well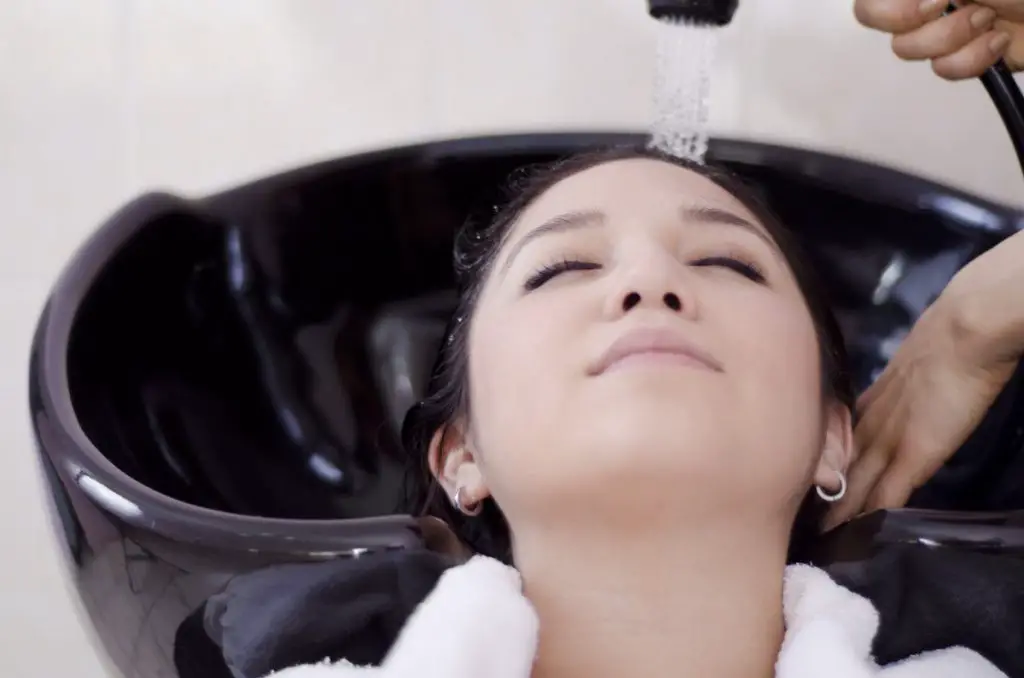 Rinsing your hair well is something that a lot of people don't do well enough. Sometimes you might leave some conditioner in your hair, which could leave to breakage later on. The same goes for shampoo, so you have to rinse your hair well to make sure it's clean.
You can see if it's rinsed well if you don't see any shampoo or conditioner coming off from your hair. This might sound really childish, but it's actually a thing that people forget to do.
They just take a quick shower for 5 minutes and rinse it very fast, not knowing that there's some shampoo left on the hair.
9. Sea Salt Spray
This is one of my favorite products that I use every other day. The sea salt spray is like the finishing product to giving it some extra volume. Especially if your hair is extremely flat like mine.
The spray that I use is this one here. The spray smells very pleasant and is also lightweight. I don't really like it when hair products feel heavy on the scalp. It also gives the hair a nice shine and strengthens it more.
I recommend it to use right after towel drying your hair and spraying it on. Scrunch your hair, so it gets nicely worked in. After that, move on to blowdrying your hair or just airdrying it.
10. Do Not Use Hair Oil
Hair oils are used by some people, but I don't use it myself. The reason is that most oils out there are pretty heavy on the scalp. What could happen is that it makes it harder to get more volume.
So that's why I don't use any hair oils. However, if you like using hair oils and it works for you to get more volume. You should definitely use it since everyone has a different hair type.
11. Put Your Hair In A Tight Bun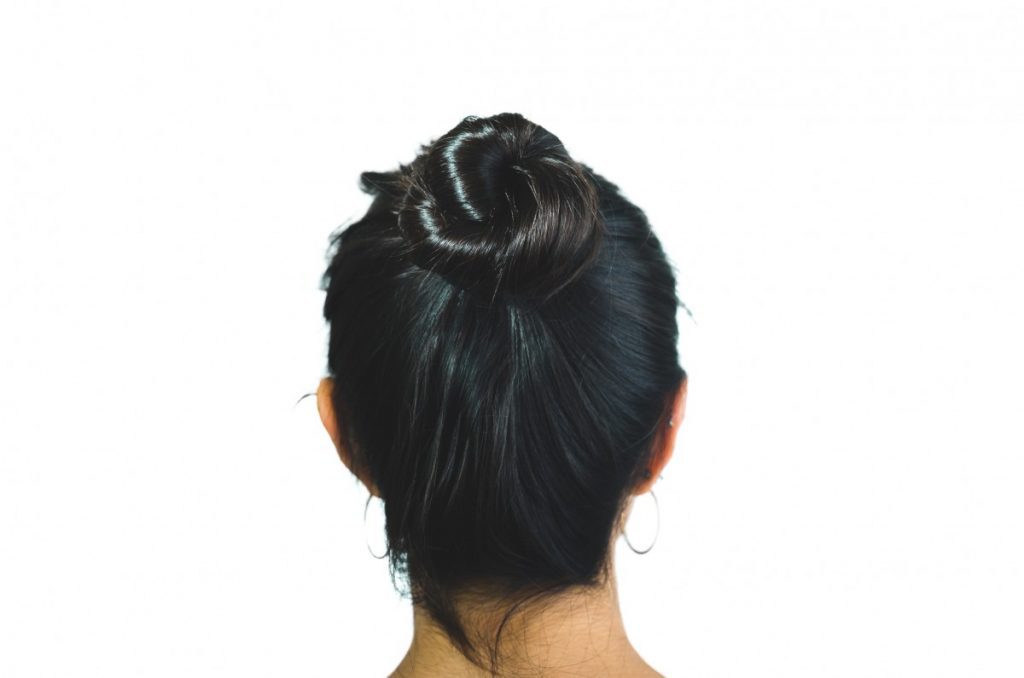 When your hair is put up in a tight bun for about 2 to 3 hours. Your hair will get used to stay like that. Once you remove the bun, it will create lots of volume.
I personally don't use a bun because it's too time-consuming. I don't have time to leave my hair in a bun for 2 hours just to get more volume. I rather use some good products that work well and only take 10 minutes.
Conclusion
These 11 tips to get more volume in Asian hair are the tips that I've learned throughout the years. I hope these tips have helped you and actually work to get more volume. Having flat Asian hair is a problem that a lot of people are struggling with.
My main problem was having flat hair when I always wanted it to get a little more volume. After applying all these tips, I now don't have to worry about it anymore. These tips have gotten my hair a lot of volume, and still, to this day, I use them.
If you have a friend or family that's also struggling with flat Asian hair and wants more volume. You should tell these tips to them and how to do it. I also helped some friends of mine that were struggling with this problem.
After all, it's up to you and finds which tip works the best for you. Some may work better for you than others, but to know that for sure, you should have tested it yourself first. If you have more tips that work to get more volume in Asian hair, you can always contact me on the contact page.